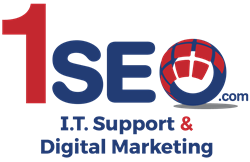 BRISTOL, Pa. (PRWEB) July 05, 2019
As an expression of their commitment to their local community's well being,1SEO I.T. Support & Digital Marketing recently partnered with the United Way of Bucks County for their Summer Food Drive.
Termed "Operation Helping Hand Food Drive," the drive is intended to address the common problem of food insecurity among children during the summer months. It is estimated that 16% of children in Bucks County are food insecure, meaning that they cannot be sure from where their next meal will be coming. Because many such children rely on the free meals provided by public schools for sustenance, summer session can leave them deprived of one of their main food sources, making community support all the more critical June through August.
To help combat hunger in their community, 1SEO participated in Operation Helping Hand for two weeks, successfully collecting a whole van's worth of non-perishable food items during the month of June. The food donations are to be distributed to over 30 food pantries across the country.
For information about the 1SEO I.T. Support & Digital Marketing and their involvement in their community, visit https://1seo.com/.
About 1SEO I.T. Support & Digital Marketing
1SEO I.T. Support & Digital Marketing is a Philadelphia, PA-based digital marketing firm and managed I.T. service provider offering end-to-end solutions for their clientele, which is comprised of hundreds of businesses in countless industries that operate in several sectors, from the niche to the mainstream. With a full range of services, including social media optimization, content marketing, search engine optimization (SEO), web development, pay per click (PPC), proactive I.T. support, and managed I.T. services, 1SEO I.T. Support & Digital Marketing helps their clients win online and maximizes the efficiency and security of their I.T. infrastructure.
For more information, please visit https://1seo.com/. Or check them out on Facebook at https://www.facebook.com/1seoitdigital/ and on Twitter @1SEOITDigital