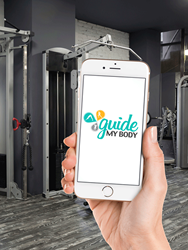 Fitness Coaches and Trainers can now manage their fitness business with one application as well as connect with new local and online prospects.
Orlando, Fl (PRWEB) October 13, 2015
Guide My Body is proud to announce the 1st Business Management Software for coaches and trainers as well as lead generator system. Our web and mobile business management platform allows trainers and fitness coaches to manage their entire business from one application as well as connect with new local and online consumers with our online directory.
Some notable features of the platform are scheduling, billing, note taking, messaging, presenting availability online, interactive video session's, automatic session reminders, client management and payment tracking.
"This is truly an all-in-one solution for coaches and trainers," said Anthony Fernandez, Guide My Body's Founder and CEO. "Fitness coaches and personal trainers can now manage their entire business with one application. Our revolutionary platform provides a turnkey solution for trainers to take notes, document client's progress and the ability to conduct interactive video sessions on a mobile device, tablet or desktop. We are also the 1st business management application to drive new business with our online directory. This combination enables coaches and trainers to save time, drive new business, cut down on daily tasks, as well as see clients anytime, anywhere."
Guide My Body also addresses one of the biggest hurdles for an individual which is a central area to find and hire a local or online fitness coach. Our interactive directory will allow anyone wanting to find a fitness coach to search by a variety of filters including specialty, goal, location, gender, as well as social media handle. Once the individual has found their desired coach, they can easily schedule a local or video session with their selected coach.
"Leveraging the online directory makes it possible for consumers to find and book fitness coaches and trainers from anywhere, at any time," said Anthony Fernandez. "Consumers no longer need to rely on a gym to connect with a trainer. They can now easily book a session with a local or online coach that aligns with their goals as well as their budget."
For the first time ever, individuals who use the platform to connect with a coach can enjoy the benefit of logging back in at any time to review their health progress and notes from previous sessions. Guide My Body also equips these clients with a daily journal which enables them to log their fitness journey and daily activities.
"Our goal is to provide a formal and professional place for individuals to connect with a local or online coach. They can now forget the days of getting oversold at a gym as well as informally connecting with an online coach via Instagram. They can now research and find their ideal coach from the comfort of their home or on the go on their mobile device.
Our innovative platform is built to assist an array of fitness entrepreneurs including yoga instructors, CrossFit coaches, nutritionists, team sport coaches (i.e. basketball, football, soccer, baseball, hockey, golf. softball, lacrosse & boxing), bodybuilding and contest prep coaches, spinning instructors, exercise therapists and much more.
For more information on Guide My body visit http://guidemybody.com/ or call their team at (888) 255-1024.