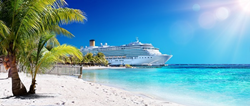 "Cruising is considered normal everyday society. When you live in Omaha—millions of people don't even get to see lakes—this is who I want to target."
TAMPA, Fla. (PRWEB) February 17, 2020
Port of Go! is giving Modern Travelers exactly what they've asked for—real-time luxury, education, and travel exclusivity under one roof. Port of Go! is a multi-faceted show set to launch in Fall of 2020 in Orlando, Florida, with a second event in Spring 2021. Port of Go! – Cruise, Destination and Travel Showcase is created, owned, and operated by Othal Partners, LLC and was founded by R. Stan Kelly—an industry mogul with an impressive client portfolio, including Walt Disney, Orlando Magic, and Sprint Corporation. His focus is to operate a travel showcase that connects consumers and merchants together in an innovative and interactive way, transcending traditional travel shows. Attendance records are predicted to surpass a minimum of 20,000 with over 180 vendors and sponsors, celebrities, and even, an on-site fashion show. Ticket cost will be $20.00 online in advance or $25.00 at the door.
Innovation Transforms the Travel Industry
Kelly is piloting his first Port of Go! showcase in his hometown, Orlando, Florida, located just 45 miles east of Port Canaveral—one of the busiest cruise ports in the world with 4.5 million cruise voyagers passing through.(1) On a global scale, Florida ranks to be one of the highest cruise port contenders—including the ports of Miami and Everglades, extremely high in passenger traffic. Orlando itself, is a vibrant city where millions of visitors come to vacation multiple times annually.
Kelly plans to take Port of Go! to the southeast as part of his long-term mission: his next show Spring 2021. He's also targeting cities that don't have ports or beaches within state lines. In Florida, for example, Kelly states, "Cruising is considered normal everyday society. When you live in Omaha—millions of people don't even get to see lakes—this is who I want to target."
Kelly's passion for delivering travel in a luxurious and educational way is what sets him apart from competing travel industry leaders. His business goal is to bridge the gap between travel markets and their consumers. Merchants will now be clamped face-to-face with their target buyers in real-time, housed in one space. Port of Go! has designed this event differently from any other travel event consumers may have experienced before. He voices that consumers should, "expect to see a fashion show, International wine tasting, an extensive bevy of products to sell live and online via E-Comm, and a job fair for travel workers."
Working Nomads
Port of Go! is intent on incorporating job fairs into their showcase. It is to combine work with leisure. For example, digital nomads are opting in for trips where they can work remotely, cutting down on absentee and salary deduction rates. With WIFI, desks, and work-friendly cafes as well, travelers can stay on track with work while enjoying a cruise vacation. (2)
A second segment of Port of Go!'s Job Fair Component will assist companies in hiring well-qualified and readily available talent to fill in the reduction of job demands-amidst a 2020 traveler spike. According to The Cruise Lines International Association's (CLIA) Industry Outlook report, "cruising sustained 1,177,000 jobs equaling $50.24 billion in wages and salaries and $150 billion total output worldwide in 2018." (3)
The Merchant Opportunity
With an influx of job opportunities, Kelly is making headway on a national scale for merchants too. Kelly's approach is to lower vendor costs to $36.95 per square foot, or $3,695 per 100 square feet in comparison to The New York Travel Show's current cost of $3,990 per 100 square feet.(4)
He is targeting the United States as well as Canada, presenting The Modern Traveler with a fresh perspective by hosting a "new inspiring travel showcase that offers great entertainment, resources, and travel deals for all seeking to travel or planning travel. It will be a-can't miss opportunity! We are going to areas where anything like this does not exist! This is also a prime opportunity for national consumer brands to get in-front of a highly targeted and motivated audience. Kelly's business approach includes any brand that can identify with a traveler, i.e. fashion, luggage, luxury goods, swimwear, and sunglasses. In addition to celebrity attendance and a live fashion show, there's ample space for celebrity endorsements and or advertising campaigns to kick off.
Port of Go! will be held at the Orange County Convention Center located at 9800 International Drive, Orlando FL, from October 10-11, 2020, with a second event slated for the southeast in Spring 2021. Sponsorships, tickets, vendor information and VIP passes are available via "Port of Go!" –Cruise, Destination and Travel Showcase's website.
About the "Port of Go!" - Cruise, Destination & Travel Showcase!":
"Port of Go!" – Cruise, Destination & Travel Showcase! is a new, twice a year, consumer-focused exposé designed for all travel and tourism related organizations. "Port of Go!" is set to launch October 10 & 11, 2020, at the Orange County Convention Center in Orlando, FL, with a second event slated for the southwest in the Spring 2021. This multi-faceted show is aimed to attract the savvy traveler and offer education, luxury or choice, and travel exclusives. Meanwhile, "Port of Go" provides travel organizations with an opportunity to increase their income through new exposure, growth stimulation, and market development by engaging in its competitive advantage program.
"Travel Ticket Magazine" is a travel industry publication that launches in July 2020 that provides additional advertising exposure to supplement the marketing strategies of each participating organization.
Both entities are created, owned, and operated by Othal Partners, LCC – a 30-year, Full-Service Advertising Agency that specializes in Creative Marketing and Corporate Communications. It was founded by R. Stan Kelly – an industry mogul bringing experience backed by account work with Big Name brands such as: Walt Disney, Orlando Magic, and Sprint Corporation. For more information, visit https://www.portofgo.com/
1. "Port Canaveral." Wikipedia, en.wikipedia.org/wiki/Port_Canaveral.
2. "2020 State of the Cruise Industry Report", CLIA, December 12,2019, cruising.org/-/media/research-updates/research/state-of-the-cruise-industry.pdf.
3. "CLIA: Thirty-Two Million Cruise Passengers Expected in 2020." The Maritime Executive, maritime-executive.com/article/clia-thirty-two-million-cruise-passengers-expected-in-2020.
4. "2020 Exhibitor Welcome." The New York Times, May 5, 2019, nyttravelshow.com/wp-content/uploads/2019/05/2020-Travel-Show-Exhibitor-Facts-FINAL-WEB-5-20-19.pdf.