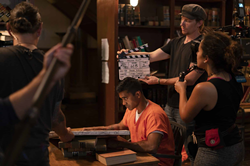 "I've spent the past 7 years writing and developing film projects, so for the first film I produced and starred in to win 3 awards is a dream come true, and definitely worth the struggle."
LOS ANGELES (PRWEB) July 05, 2019
Hollow Point stars Luke Goss (Blade II, Hellboy: The Golden Army), Juju Chan (Crouching Tiger Hidden Dragon: Sword of Destiny), Jay Mohr (Jerry Maguire, Street Kings), Michael Pare (The Infiltrator, The Lincoln Lawyer), Bill Duke (Mandy, Predator), and Dilan Jay as principal lead actor Professor Nolan Cooray — making Dilan the first Sri Lankan lead actor in an award-winning American action movie.
NIAFFS is Spain's only action-focused film festival, an exclusive 7-day event in Seville that received more than 500 film submissions in 2019 for its sixth year running. Only 10 films were selected for final award consideration, with talent from Scott Adkins, John Cusack, and Taye Diggs. Hollow Point's awards were presented at the June 29th awards gala, at which Dilan attended and took the stage.
"Creating Hollow Point with our director Daniel was an incredibly valuable experience, from tweaking the script to shooting the film in just a 13-day span with a dedicated team — I'm very proud we won," commented Dilan.
The film tells the story of a traumatized ethics professor who unexpectedly joins a group of vigilantes to avenge the murder of his wife and daughter when law enforcement efforts run dry.
Best Director Daniel Zirilli comes from a background of directing hundreds of music videos and many action films. Zirilli stated, "I was introduced to Dilan by co-producer Adel Nur, and we reviewed so many screenplays to find the right fit. I had been rewriting Hollow Point based on the original script by Chad Law and Evan Law, and finally convinced Dilan that he should take the lead role as I knew he could deliver — and he did."
Best Male Stuntman was won by Hollow Point's Ayhan Tongadur, a seasoned stuntman with 12 years' experience and a lineup of theatrical film appearances including Suicide Squad, Logan, Argo, GI Joe, and more. Tongadur performed on the film with fight choreography Stunt Coordinator Arnold Chon.
For the film's score, Dilan selected Martell Nicholas Rivera after reviewing multiple other candidates. Martell and Dilan collaborated on Hollow Point's music for 3 months to ensure the score framed the film's many pivotal, emotional scenes and added more dimension and understanding to the characters.
"A movie's score is not an afterthought — it's what creates the flow of the film, and when it's done right, the music communicates the story in ways actors — no matter how good — just cannot. So Hollow Point winning Best Score is a major achievement for my first film," Dilan stated.
Dilan doubled as the post-production coordinator, spending 4 months drawing from his 8 years as a professional singer-songwriter to both refine the score and finalize the movie. Dilan's experience musically stems from producing 4 albums, 2 mixtapes, and six #1 hits — including a #1 on MTV's Most Popular Music Videos.
"I've spent the past 7 years writing and developing film projects, so for the first film I produced and starred in to win 3 awards is a dream come true, and definitely worth the struggle," Dilan closed.
Hollow Point is being represented for sales by Bleiberg Entertainment in Beverly Hills. http://www.bleibergent.com/library/hollow-point
For media inquiries or to interview Dilan Jay, contact Halcyon Media Group at 727-245-9751 or pr@halcyonmediagroup.com.