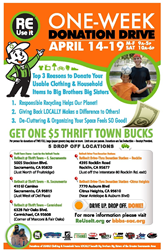 Roseville, CA (PRWEB) April 11, 2014
ReUseIt partners with Thrift Town, Big Brothers Big Sisters of the Greater Sacramento Area, and six Entercom Communications owned Sacramento radio stations for a six-day donation drive titled 1THING in celebration of Earth Week, Monday, April 14th to Saturday, April 19th.
This six-day event, Be Green and Do 1Thing, promotes the message that the planet's sustainability starts with one person doing just 1-thing: donating usable clothing and household items. All donations locally benefit Big Brothers Big Sisters of the Greater Sacramento Area. The biggest donation needs are usable clothing and shoes. All donations are tax deductible, and $5.00 in Thrift Town Bucks will be given to each person for donations of two full bags (paper grocery bag size) or more of usable product. Limit one per person.
Drive up. Drop off. Done! There are five easy and convenient donation drop-off locations serving this event in the greater Sacramento area and open Mon-Fri, 9 a.m.-5 p.m. and Saturday, 10 a.m.-6 p.m.:
ReUseIt Drop-Off Center at Thrift Town - South Sacramento 5005 Stockton Blvd., Sacramento, CA 95820 - just north of Fruitridge
ReUseIt Drop-Off Center at Thrift Town - North Sacramento 410 El Camino, 95815 - just west of Del Paso,
ReUseIt Drop-Off Center at Thrift Town – Carmichael 6328 Fair Oaks Blvd., Carmichael, CA 95608 - corner of Marconi & Fair Oaks
ReUseIt Drive-Thru Donation Station - Citrus Heights 7770 Auburn Blvd., Citrus Heights, CA 95610 - near Antelope & Auburn Blvd.
ReUseIt Drive-Thru Donation Station - Rocklin 4395 Rocklin Rd., Rocklin, CA 95677 - just off the Interstate 80 Rocklin Rd. exit
Top three reasons to consider donating usable clothing and household items during the 1Thing event:
1. Responsible recycling helps the planet. Go green; reduce, reuse, and recycle. Help keep usable items out of local landfills and help protect the Earth.
2. Giving back locally makes a difference to others. Donating usable items through ReUseIt enables one to give back locally to Big Brothers Big Sisters.
3. De-cluttering and organizing a space feels so good! Less clutter equals less stress. Making a donation makes a difference and allows for being part of something BIG.
For more information, please visit ReUseIt.org or bbbs-sac.org.
ReUseIt, is a registered Commercial Fundraiser in the state of California, providing exceptional support & service to nonprofit organizations in local communities. The ReUseIt team has over 41 years of experience in the household recycling industry, and is dedicated to making a difference locally. For more information on ReUseIt, including locating the nearest donation station or community donation drop box, to schedule a free household donation pick up, to find out where ReUseIt trucks offer neighborhood curbside pick-ups, or to simply get connected, visit http://www.reuseit.org, Facebook/ReUseIt, Instagram @reuseitlocally or Twitter @ReUseItOrg. Or call direct at: 1-877-738-7348 (1-877-RE-Use-It). ReUseIt also offers nonprofit organizations the opportunity to raise important funds for their cause with an "easy as pie, better than a bake sale" donation drive fundraiser program.
Thrift Town is owned and operated by Norquist Salvage Corporation, and has spent over four decades dedicated to socially responsible recycling. Thrift Town has 14 store locations in three western states and lives its vision statement of being committed to making a difference every day. Each of their award winning clean, bright, and organized stores put out 4,000 gently used products daily, setting them apart in the thrift world as the premier thrift destination. For more information, or to get connected with Thrift Town, visit thrifttown.com, Facebook/ThriftTown, Pinterest/pinthrifttown, Instagram or Twitter @thrifttown or #thrifttown. Thrift Town also has a robust customer appreciation VIP program which provides consumers exclusive coupons, sale alerts, and it automatically enters members to win valuable and fun quarterly giveaways.