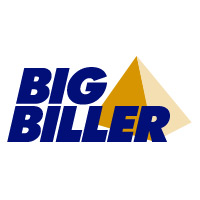 When a recruiter tries Big Biller free for 30 days, they're more likely to sign up for the software.
Canton, OH (PRWEB) September 15, 2013
Big Biller, recruitment software for applicant tracking, continues to experience growth in the recruiting and staffing industry.
By offering a powerful, easy-to-use software at an affordable price, the applicant tracking system boosted its customer base last month. In fact, a total of 20 recruiting agencies made Big Biller their recruitment software of choice and became customers during the month of August, including three agencies apiece in the states of Florida and Virginia.
Below is a complete breakdown of the 20 recruiting agencies that became Big Biller customers during the month of August (including firm name and location):

Ability Professional Search, LLC in Hilliard, Ohio
Artemis Talent Group in Scottsdale, Arizona
Ashworth Group, Inc in Palm Harbor, Florida
Catch and Release Recruiters in Spokane, Washington
Cornell Medical Staffing, LLC in Twin Falls, Idaho
DBDS in Manchester, Connecticut
ExaTech Solutions, Inc. in Herndon, Virginia
Execudyn TCG in Houston, Texas
Integrity Technology Careers in Louisville, Kentucky
Outlets of Mississippi Jobs in Garrison, Maryland
Paramount Placements, LLC in Owasso, Oklahoma
PFAFF in Anchorage, Alaska
Pinnacle Staffing in Odessa, Florida
PrimmCain, LLC in Maclean, Virginia
Right Track Career Solutions in Orlando, Florida
Sharf Woodward & Associates in Sherman Oaks, California
Shell Gordon Group in Frisco, Texas
Summit Search Consultants in Bozeman, Montana
The Caporale Group in Miami, Virginia
White Paladin Group in Overland Park, Kansas
Big Biller is referred to in many ways . . . as recruiter software, an applicant tracking system (ATS), or applicant tracking software. Simply put, Big Biller is a powerful recruitment software package that helps recruiters manage the relationships they have with their candidates and clients, all with one purpose and focus—making more placements.
Big Biller is a product of Top Echelon, a company dedicated to helping recruiters make more placements.
"We're excited by the continued growth of Big Biller and by the number of recruiting firms that take advantage of our 30-day trial of the software," said Top Echelon President Mark Demaree. "When a recruiter tries Big Biller free for 30 days, they're more likely to sign up for the software. That's a testament to what Big Biller has to offer and the value that the software provides for those firms that use it for their everyday needs."