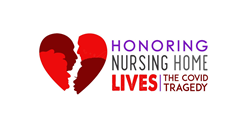 "Our goal in developing this production is to provide an opportunity for every member of society to collectively grieve and honor our loved ones. Gray Panthers NYC is honored by recognition by this award." - Jack Kupferman, President, Gray Panthers NYC
NEW YORK (PRWEB) September 09, 2021
Gray Panthers NYC has won a prestigious Award of Recognition from The Impact DOCS Awards Competition. The award was given for Gray Panthers NYC's exciting documentary feature, Honoring Nursing Home Lives Lost, which captured testimonials nationally during Older Americans Month raising public awareness of the need for nursing home transformation. "Honoring Nursing Home Lives Lost" features exceptional voices such as: Senator Kirsten Gillibrand, testimonials from nursing home residents, staff, and families, interfaith clergy, including Reverend Lynn Casteel Harper from Riverside Church, National Medal of Arts recipient, Ralph Lemon, Age Wave CEO Ken Dychtwald and Gray Panthers NYC President Jack Kupferman.
"The staggering anguish suffered by nursing home residents, staff, and family members due to the loss of 200,000 lives from COVID must be a catalyst for change. Our goal in developing this production is to provide an opportunity for every member of society to collectively grieve and honor our loved ones. Gray Panthers NYC is honored by recognition by this award." – Jack Kupferman, Co-Producer and Gray Panthers NYC President.
Impact DOCS recognizes film, television, videography, and new media professionals who demonstrate exceptional achievement in craft and creativity, and those who produce standout entertainment or contribute to profound social change. Documentaries were received from 30 countries, including veteran award-winning filmmakers and fresh new talent. Entries were judged by highly qualified and award-winning professionals in the film and television industry.
Rick Prickett, who chairs Impact DOCS, had this to say about the latest winners, "The judges and I were simply blown away by the variety and immensely important documentaries we screened. Impact DOCS is not an easy award to win. Entries are received from around the world from powerhouse companies to remarkable new talent. Impact DOCS helps set the standard for craft and creativity as well as power catalysts for global change. The goal of Impact DOCS is to help winners achieve the recognition they deserve for their dedication and work."
About the Gray Panthers NYC
Activism and Advocacy Against Ageism. The Gray Panthers envisions a world where the old and the young have much to contribute to make our society more just and humane, and in which each reinforces the other in goals, strategy, and action. For more information visit Gray Panthers NYC's website at https://graypanthersnyc.org
About Impact DOCS Awards
Impact DOCS Awards is in its second year and is the newest member of the Global Film Awards (GFA) family of competitions who have been hosting competitions for 14 years. As one of the original trend-setting digital online competitions, GFA set the standard for this exciting new breed of film competitions. GFA's Accolade Competition was named by Movie Magazine "…as one of the top 25 festivals worth the entry fee". It is truly international in scope offering filmmakers from large powerhouses like Disney, The Weinstein Company, Discovery, and Ridley Scott all the way to first time filmmakers and students, the opportunity to receive valuable feedback from an impartial judging panel comprised by highly qualified and award-winning professionals in the industry. Often the first stop on the festival circuit, GFA award winners have gone on to win Oscars like the short doc "The Lady in Number Six" and "Mr. Hublot" as well as countless Emmys, Tellys and more. Information about the Impact DOCS Awards and a list of past and recent winners can be found at http://www.ImpactDocsAwards.com