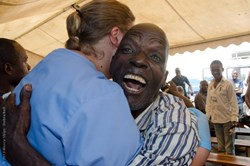 We are extremely pleased to have the continuing leadership and support of The Rees-Jones Foundation. With their partnership, lives will be changed for generations to come. Don Stephens, President of Mercy Ships
Garden Valley, TX (PRWEB) December 26, 2013
Mercy Ships announced that it has received a $2 million grant from The Rees-Jones Foundation to be used towards the construction of the newest Mercy Ships vessel, which will be the sister ship to the world's largest civilian hospital ship, the Africa Mercy. Together, they will serve the forgotten poor.
"It is tragic to think that even the most basic medical care could be viewed as a luxury by the world's poor. Mercy Ships addresses this problem, transcending borders to provide medical care to those most in need in the countries along the coast of West Africa. Our hope is that those served will experience the love of Christ and receive relief from their suffering, encouragement from the dedicated staff of Mercy Ships, and improvement in their quality of life," stated Trevor Rees-Jones. He and his wife, Jan, founded The Rees-Jones Foundation in 2006.
This is the second time that The Rees-Jones Foundation has given to Mercy Ships at a critical decision-making time. In 2008, the Rees-Jones family toured the 16,579-ton Africa Mercy in England while the vessel was still under shipyard refit from rail ferry to hospital ship. While onboard, they caught the vision of what a ship like this could provide to the poorest of the poor in Africa. Over the ensuing months, The Rees-Jones Foundation made grants totalling $2 million to support the completion and launch of the Africa Mercy into service.
Don Stephens, President and Founder of Mercy Ships, said, "We are extremely pleased to have the continuing leadership and support of The Rees-Jones Foundation. With their partnership, lives will be changed for generations to come. Each act of mercy is the result of those who work onboard our hospital ship and those who give of their resources. We are honored to partner with The Rees-Jones Foundation to extend the Mercy Ships mission of hope and healing to the world's forgotten poor."
Mercy Ships announced this month that contracts were signed in Asia to begin the project of purpose-building a new 36,600-ton hospital ship. This new ship is expected to more than double the capacity of Mercy Ships to deliver free, world-class healthcare.
This grant comes on the heels of the Mercy Ships story, recently highlighted by CBS on "60 Minutes" (http://www.cbsnews.com/videos/africa-mercy-hospital-of-hope-50141230/).
About Mercy Ships: Mercy Ships uses hospital ships to deliver free, world-class healthcare services, capacity building and sustainable development to those without access in the developing world. Founded in 1978 by Don and Deyon Stephens, Mercy Ships has worked in more than 70 countries providing services valued at more than $1 billion, impacting more than 2.42 million direct beneficiaries. Each year Mercy Ships has more than 1,600 volunteers from more than 45 nations. Professionals including surgeons, dentists, nurses, healthcare trainers, teachers, cooks, seamen, engineers, and agriculturalists donate their time and skills to the effort. Mercy Ships seeks to transform individuals and serve nations one at a time. For more information, click on http://www.mercyships.org.
About The Rees-Jones Foundation: The Rees-Jones Foundation is a private foundation established by Jan and Trevor Rees-Jones in 2006 with a principle focus on benefitting the people of North Texas. As a Christian organization, the Foundation does participate in helping with needs in the global community, in the areas of safe water, medical care and justice issues. The Foundation's mission is to provide support and funding for programs that will help improve in tangible ways the quality of life and life circumstances of the people it serves, with special emphasis on assisting children and their families. For more information, visit http://www.rees-jonesfoundation.org.
Contact: Pauline Rick, U.S. Public Relations Coordinator, Mercy Ships
E: us(dot)media(at)mercyships(dot)org/ Tel: (972) 922-5442