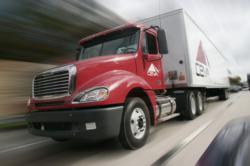 We've reduced the amount of time it takes to get contracts signed by 83%, from 30 minutes to just 5 minutes!
Chicago (PRWEB) July 10, 2013
Sertifi enables CEVA to streamline business processes, increase broker productivity, enhance customer experience, and heighten document security while reducing operating costs.
"We've reduced the amount of time it takes to get contracts signed by 83%, from 30 minutes to just 5 minutes," said Jim Quinn, Director of Truckload Brokerage at CEVA in North America. "Since using Sertifi, we've added between 15-20 man hours each week to our team."
In a highly competitive industry, it's important to move fast if you want to close business. CEVA's truckload brokerage team of 40 Transportation Brokers began using Sertifi which is integrated into Aljex Software in the first quarter of 2012 to get rate confirmations and other documents signed faster.
Compared to the manual contract process of sending documents for signature, CEVA completes transactions in one-fifth the amount of time and saves thousands in direct costs each month.
Transportation Brokers can now manage transactions remotely on tablets and mobile devices. Carriers can conveniently sign anywhere on any device resulting in Transportation Brokers no longer dealing with paper-based and labor-intensive tasks associated with chasing down documents for signature. They no longer wait around fax machines or sift through excessive paperwork. More time is allocated for completing transactions and other revenue generating activities.
Customers appreciate receiving contracts and service agreements by email with the ability to conveniently sign. As for clients who are on the road or working remotely, mobility of signing is essential. The company reports that 60-65% of all transactions are sent through Sertifi and this number continues to grow each day.
CEVA also enhanced document security with Sertifi's full signature stamp that includes the time of signature, IP address of signer, and signer's email address. CEVA sends a copy of the signed contract with the invoice as verification of the services provided to customers.
Contact
For all sales inquiries, call 1.866.983.8877 or visit http://www.sertifi.com.
About Sertifi
Sertifi provides eSignatures and Closing Automation Solutions that help organizations close deals faster. Sertifi enables sales teams to quickly reach agreements with customers and then execute the deals with electronic signatures. Customers can access Sertifi through its leading eSignature API, pre-built Salesforce and Microsoft Dynamics CRM integrations, and Web Portal. Leading organizations around the world including Pitney Bowes, CareerBuilder, U.S. Air Force, and Cricket Communications trust Sertifi.
CEVA - Making business flow
CEVA Logistics, one of the world's leading non-asset based supply-chain management companies, designs and implements industry leading solutions for large and medium-size national and multinational companies. Approximately 50,000 employees in more than 160 countries are dedicated to delivering effective and robust supply chain solutions across a variety of sectors where CEVA applies its operational expertise to provide best-in-class services across its integrated network. For more information, please visit http://www.cevalogistics.com.