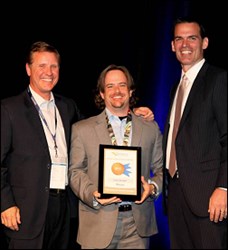 Sandy, Utah (PRWEB) October 08, 2013
Telarus, Inc., distributor of commercial data, IP, voice, and cloud service and patent holder of real-time carrier quotes, today announced that it was named 2012 Top Partner by Telnes Broadband, provider of managed broadband, MPLS, and Voice IP services for business. Telarus has won the award every year since signing with Telnes Broadband back in 2006.
"We are humbled and excited to maintain our place as the top channel partner for Telnes Broadband for another year" commented Adam Edwards, President of Telarus, Inc.. "The accomplishment is a reflection of the level of support our employees and partners receive from Telnes Broadband each and every day. In addition to being hyper-responsive to pricing requests, their sales engineers assist our partners with better WAN designs, providing redundant networks, monitoring, and lightning fast provisioning intervals. The personal touch and sense of urgency keeps our partners coming back for more."
Telnes Broadband, for its part, has been named "Telarus Partner's Choice Award Winner" for best carrier in each of the past five years. Chris Shubert, channel manager for Telnes, has also been awarded the "Telarus Partner's Choice Award" for best Channel Manager in each of the past three years.
"Telnes is a special company" added Lanny Gray, VP of Business Development for Telarus, Inc. "Telnes has earned our partner's loyalty by doing the things many of their peers don't. Telnes never takes anything for granted, giving them a 'can do' culture that goes out of their way to provide superior partner and customer support at all levels. In fact, our customers can get in touch with a Cisco certified engineer, who resides in America, in under three rings, which makes for an excellent partner and customer experience alike."
Telnes, who partnered with Telarus in 2006, is fully integrated with Telarus' patented GeoQuote system, allowing partners of Telarus to find Telnes pricing and availability in under 60 seconds. Telnes has also added its ethernet fiber lit buildings to the GeoQuote fiber mapping tool that Telarus partners heavily utilize for high capacity bandwidth research.
"Telnes and Telarus have a very similar culture of innovation," observed Patrick Oborn, VP of Marketing and co-founder of Telarus. "Telnes is always asking themselves the question: who can we get better? How can we win business away for larger, more recognizable companies? They are able to innovate and create new products in a short amount of time, beating their rivals to the punch and gaining a huge amount of fans along the way. It's things like free managed routers with every order, bandwidth utilization monitoring, multi-carrier MPLS, managed firewall services, hosted PBX, all products that require high levels of engineering expertise that are in high demand in the marketplace. Our hats go off to them for being the supplier our partners continue to rely on for complex solutions made simple."
About Telarus
Telarus, Inc., a value added distributor that holds contracts with the world's leading commercial telecommunication carriers, makes it easier and more profitable for solution providers, VARs, and MSPs to sell and source voice and data WAN solutions. Our patented GeoQuote platform combines real-time carrier pricing with advanced research features and branded proposals. Telarus' experienced Sales staff is strategically focused on enterprise WAN and high-capacity bandwidth solutions, including ethernet over copper service, making it easier to find the best offer, every time. For its part, Telarus has been named the top Master Agent by the members of the Telecom Association in each of the past three years, the first and only company in the carrier channel to accomplish this feat. Whether you are a top producer or a voice-and-data expert just starting out on your own, there is a place for you in the Telarus community. For more information on the Telarus partner program, please visit http://www.telarus.com or call the new partner hotline at 877-346-3232.