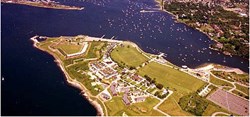 It will be good to have Lacrosse in newport again. Lacrosse was first played at Fort Adams in August of 1878 when Canada defeated the Caughnawaga Indians in front of 1,000 spectators, including foreign ministers from Italy, Austria and Spain.
Newport, RI (PRWEB) January 25, 2014
Boys and men's lacrosse clubs from around the country will converge on Aquidneck Island again for the RI Classic Lacrosse Tournament sponsored by Vineyard Vines.
Every coach and team representative will receive a special gift pack from Vineyard Vines and every player will also receive a free surprise.
July 12 & 13 – Youth-High School Teams
July 19 & 20 – Open, Masters & Grand Masters Divisions
Aquidneck Island (Newport, Middletown and Portsmouth) boasts some of the best shopping, restaurants, beaches, historical sites and night life on the East coast. It's a great place for families too - take in a match at the Newport International Polo grounds.
Youth Boys Teams will be registered by graduation year/grade. (Rising grade) Please see website for details.
Men's Divisions will consist of the following divisions:
Open Division - open to men of all ages
Masters - 30 years old and over
Grand Masters - 45 years old and over
Teams will play a minimum of four games, guaranteed. There will be two certified officials per game.
About Vineyard Vines:
A company best known for its whimsical neckties and smiling pink whale logo, Vineyard Vines was founded in 1998 on Martha's Vineyard when brothers Shep and Ian Murray cut their ties with corporate America to start making ties that represented The Good Life. In addition to signature neckwear, Vineyard Vines offers a variety of clothing and accessories for men, women and children. Products are sold in over 600 specialty and department stores worldwide, through a seasonal catalog at 1.800.892.4982, online at vineyardvines.com and at thirty-two freestanding stores.