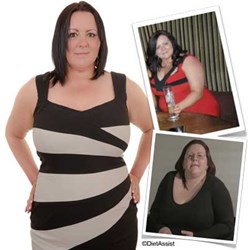 I had never really thought my weight issues were about what was going on inside my head.
(PRWEB UK) 15 November 2013
Losing weight is never easy, and for most people, the sad truth is that once they stop dieting, the weight quickly returns.
The problem, according to the weight loss experts at DietAssist, is that diets only tell people what and how much to eat. They don't usually deal with the underlying thoughts, feelings and habits that caused overeating in the first place.
As a result, the weight usually piles back on when a person goes back to their old ways.
To highlight the importance of understanding and working with the mind when it comes to long term weight loss, they have released a free twelve part online video course.
The videos cover a variety of topics, including how to stay committed and motivated, how to deal with cravings and emotional eating, and even why friends and family sometimes seem intent on sabotaging progress.
Co-creator of DietAssist, Rob Woodgate, says "When it comes to losing weight, most people have a conflict between head and heart. They try to tough it out using willpower alone, but unless the underlying habits and emotional drivers are dealt with, the heart always wins in the end."
"Our new free video course teaches people how to start making subtle changes in their habits and behaviours, so that they stop fighting against themselves and start losing weight more easily."
"People are often quite surprised when they naturally start making better food choices because they want to, not because some diet plan tells them what they can and cannot eat!"
In a recent study by DietAssist, women taught how to stay motivated and change their bad habits around food lost an average of 24lbs over a six-week period, without extreme dieting.
None of the subjects were told what or when to eat. Instead, they were taught how to mentally prepare for losing weight, and were taught techniques to help them break bad habits, control food cravings and stop emotional eating.
All participants naturally changed their eating patterns and reported significant changes in their thoughts and feelings around food. Some were surprised at the results they achieved in the six-week period.
The average weight loss over the course of the study was 24lbs, and the highest was 30lbs (over two stone). Julie, who lost two stone and dropped two dress sizes with DietAssist, said, "I had never really thought my weight issues were about what was going on inside my head. All of a sudden, I felt in control, no longer constantly thinking about food or what I am eating next. I eat smaller portions and don't pick."
Lisa, who had struggled with her weight for over 15 years, said, "I am 100% confident going forwards, it has completely changed the way I look at food now which is fantastic. It makes me feel as though I have already won my weight loss battle, at least psychologically, and it feels great to have achieved my goal."
DietAssist is the result of more than 20 years' experience in helping people lose weight effectively and is designed specifically to address the self-sabotage and demotivation that dieters commonly experience. The programme provides people with long-term psychological techniques and strategies to lose weight and keep it off.
To register for the free weight loss video course, visit http://www.dietassist.co.uk.
About DietAssist
DietAssist is collaboration between certified hypnotherapists Rob Woodgate and Paul Howard, who are experts in the psychology of the mind and predicting how the brain will respond in different situations. Together, they designed the 12-module DietAssist programme to teach people how to take control of their thoughts and behaviours to achieve long-term weight loss success. DietAssist is designed to work alongside any weight loss programme or sensible eating plan.