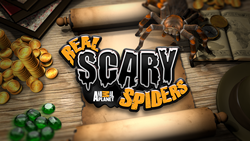 We are excited to provide an opportunity for kids to take their newfound digital pet tarantula into the real world via augmented reality.
Nottingham, Nottinghamshire (PRWEB UK) 4 April 2014
Discovery and Fuzzy Frog have released Real Scary Spiders, a new free iOS and Android app that puts players in the role of tarantula owners. With the app's augmented reality feature, users can transport the spider onto a target image in the real world, such as the cover of a magazine or a wall. Through game play, users discover interesting facts about a variety of spider breeds, including the Mexican Fireleg, the Chilean Rose and the Blue Fang. As players advance through the game, new spiders can be unlocked.
For continued play, customers who purchase the Animal Planet Web Blasting Tarantula at Toys"R"Us will be able to use the toy's package as a game trigger, activating an inter-connected experience that brings the box to life within the app.
"We are excited to provide an opportunity for kids, being naturally curious and attracted to creepy and mysterious creatures such as spiders, to take their newfound digital pet into the real world via augmented reality," said Elizabeth Bakacs, Vice President of Licensing for Animal Planet. "This interactive app is an excellent addition to our digital portfolio, expanding the ways in which fans can experience the Animal Planet brand and connecting digital play with one of our existing toys for the first time ever."
The Animal Planet Real Scary Spiders App is the latest offering from Animal Planet's robust roster of apps the popular Tanked Aquarium App, which was launched with a broadcast integration, and a children's app Hide & Seek Pets, debuted last spring.
About Animal Planet
Animal Planet Media (APM), a multi-media business unit of Discovery Communications, is the world's only entertainment brand that immerses viewers in the full range of life in the animal kingdom with rich, deep content via multiple platforms and offers animal lovers and pet owners access to a centralized online, television and mobile community for immersive, engaging, high-quality entertainment, information and enrichment.
APM consists of the Animal Planet television network, available in more than 97 million homes in the US; online assets http://www.animalplanet.com, the ultimate online destination for all things animal; the 24/7 broadband channel, Animal Planet Beyond; and other media platforms including a robust Video-on-Demand (VOD) service; mobile content; and merchandising extensions.
About Fuzzy Frog
Fuzzy Frog, a UK development studio founded in 2009, is a highly experienced multi platform development team, operating from its fully equipped Nottingham studio. The team is focused on producing high quality, engaging, unique games that challenge what is possible on mobile and other platforms.