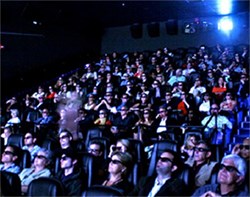 The Elysium is in Greek mythology a paradise, land for the souls of heroes resting in piece on the edge of the Earth by the stream of "Oceanos" or World Oceans.-Dir. Irina Conradi
Hollywood CA (PRWEB) November 30, 2013
Thanks to NVidia Everyone can enjoy 3D online now that NVidia is hosting a New Media Film Festival 3D channel at http://www.3dvisionlive.com/category/channel/new-media-film-festival.
In addition to the online channel, NVidia is offering a 3D Vision 2 Kit and an ASUS VG248QE 24" inch display that has NVidia's Lightboost technology to the 3D Awards category at New Media Film Festival.
Annually the festival is held at the State of the Art Theatre owned by Mark Cuban, The Landmark. Opening night is a crowd pleaser with the Red Carpet Interviews, Networking Lounge, International Art Exhibit, New Media Marketing Table, Art On Wall Exhibit and the critically acclaimed 3D Opening Night screenings with filmmaker Q & A .
All entries into the 3D category are considered for distribution on the NVidia 3D Online channel for New Media Film Festival whether they have an opportunity to screen and/or be in competition or not.
For two decades, NVIDIA has pioneered visual computing, the art and science of computer graphics. With their invention of the GPU — the engine of modern visual computing — the field has expanded to encompass video games, movie production, product design, medical diagnosis and scientific research.
Today, visual computing is becoming increasingly central to how people interact with technology.
Here are some of the recent selections for the NVidia 3D New Media Film Festival channel.
THE MUSIC PEACE 3D
– This is an actual piece of artwork that has been transformed into the 3D experience. Bringing another dimension to the art experience. Painter-Miles Regis, Co-Creator-Brian Quandt. Winner 3D Innovation Award at the New Media Film Festival '11.
About the Artist: Miles Regis is an internationally celebrated artist whose work has been featured in profiles on CNN, The Huffington Post, and Extra TV to name a few. The Trinidad native relocated to Los Angeles to attend USC, graduating with a BA degree in creative writing. It is no coincidence that Miles' large-scale paintings tell wonderful and thought provoking stories that combine his American experiences with the culture and flavorings of his native land. Recent partnerships have included relationships with Intel, Vice Magazine, Adobe, The Creators Project, and the launch of a 3D Art world tour at the Coachella Music Festival 2011. Supporters of Miles' work include American Rag Cie, CCH Pounder, Nicollette Sheridan, Manifest Equality, Ron Perlman and Tonny Sorenson and numerous art institutions around the world.
FIGHTER PILOT 3D: OPERATION RED FLAG TRAILER:
-Following a young F-15 fighter pilot through Red Flag, the final training phase before pilots are sent into actual combat, this giant screen film is the closest audiences will ever get to a ride in the world's greatest fighter jet. "Fighter Pilot: Operation Red Flag" was directed by one of the foremost large format filmmakers and provides a rare insider's view into the teamwork and dangers inherent in military flight training.
ANTARTICA'S PENGUIN EMPORER'S 3D TRAILER:
-This family friendly film was shot on location in Antarctica, the southernmost region on the planet. The story follows a colony of Emperor Penguins as they emerge from the sea and begin their long march sixty miles inland during the cold winter. Presented in stunning 3D, this true-life tale will warm the hearts of audiences as they witness the hardships and sacrifices of these curious creatures in their fascinating triumph over the elements. -
ELYSIAN FIELDS 3D:

"We are here today, gone tomorrow." What makes us go on? Most importantly what makes people remain passionately engaged in finding meaning in life? What is the material that our consciousness, imagination and memories are made of? Inspired by the serious theme of war "Elysian Fields" is a meditative film and very much an imaginary projection about the war. The Elysium is in Greek mythology a paradise, land for the souls of heroes resting in piece on the edge of the Earth by the stream of "Oceanos" or World Oceans. Winner 3D Innovation Award New Media Film Festival '13
TEMA 3D:
-The world's first 3D PSA. It calls attention to the acute trauma encountered by emergency service work. 3D Content Award New Media Film Festival '11
MARATON 3D:

An armed man is pursued by two policemen until he enters a kindergarten, where things take a surprising turn.
AFTERLIGHT 3D

On discovering life in an old photograph, a widower makes an audacious attempt to reunite with the wife he lost many years before. 3D Innovation Winner New Media Film Festival '12
Founder/Director Susan Johnston of New Media Film Festival is a member of the 3D International Society, ATAS, SAG, BMI and is on the Advisory Board for the SET Awards & a member of The Caucus.
http://www.NewMediaFilmFestival.com
http://www.imdb.com/name/nm0426856/?ref_=fn_al_nm_2