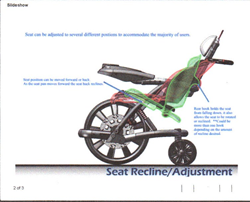 Los Angeles, California (PRWEB) April 14, 2014
The adjustable Adult Mobility Device has a modern, high-tech design and is fully adjustable. The AMD has large wheels in the front and smaller wheels in the rear, providing enhanced maneuverability. The seat pan and back can adjust to several different positions and it has an integrated head rest. The shock absorbers will ensure a comfortable, cushioned, ride for the passenger. The foot rest folds up, so that the rider can stand right next to the device, making it easier for both entering and exiting the device. The AMD also has a weather shield, which will completely enclose the rider, keeping him/her safe from wind, rain, snow and the sun. The weather shield can be partially deployed for sun protection or fully deployed to keep the rider safe from the other elements. The AMD also has a tray with storage and a built in cup holder. It has a built in IV pole, catheter hook and an oxygen tank holder. There are also baskets in the back for storage/shopping. The AMD has been issued a US Patent and is awaiting engineering.
Cascio Enterprises, LLC is seeking a licensing agreement.