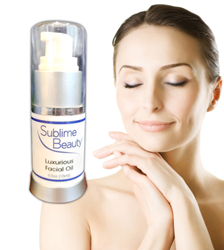 The tide is turning again as people realize and rediscover the power of oils over creams for skin health, says Kathy Heshelow.
St. Petersburg, FL (PRWEB) May 12, 2014
Oils nourish and nurture skin. They contain natural vitamins, minerals and natural ingredients that can act as anti-inflammatories, anti-aging agents or even anti-bacterials.
"Oils are preferred in much of the world, and were popular in the U.S. for years," says Kathy Heshelow, founder of Sublime Beauty® . "This changed some decades ago in favor of creams, but the tide is turning again as people realize and rediscover the power of oils."
Sublime Beauty® designed an all-natural Daily Body Oil, choosing each of the 5 oils carefully: Sweet Almond Oil, Sesame, Aloe, Argan and Jojoba. A brochure is available on the webstore product page revealing the power of each oil.
Another pure blend of oils suited for the face, neck and hands is offered by the company. The Luxurious Oil includes Organic Grapeseed Oil, Avocado Oil, Macadamia Oil, Jojoba Oil, Oil of Tamanu and Noni.
"Grapeseed oil is rich in anti-oxidants, omega-6 and vitamin E which leaves the skin satiny while Avocado oil contains sterolins to help skin quality & encourage collagen production," says Heshelow.
"Sesame is well-known throughout history as a natural anti-bacterial while Sweet Almond is known to delay the aging process and soothe skin very well. Rare Argan Oil is rich in Vitamin E and healing properties, plus includes plant sterols not found in any other oil," says Heshelow.
Both oils are on sale at the Sublime Beauty® webstore this week. Use code OIL25 this week only (to May 17th) to receive 25% off and free standard shipping.
ABOUT: Sublime Beauty® is a quality skincare company that focuses on products to "Age Younger". Products help to boost collagen, hydrate, relax wrinkles and improve skin. A niche includes healthy Skin Brushes. The company webstore offers free standard shipping and a VIP Club. Products also available on Amazon.