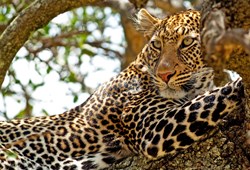 Globetrotters craving an East Africa experience with a difference can participate in a volunteer program in the Masai Mara...
Glendale, California (PRWEB) October 07, 2013
The AfricaExperts for over 40 years, Goway Travel first began opening up the world's most mysterious continent with Overland expeditions. Its product range has since grown to include safaris, exotic beach destinations, romantic rail journeys and more, to help Globetrotters see the real Africa.
Packed with over 200 travel ideas, many inspired by personal travel experience, Goway's new Africa brochure offers a wealth of ways to explore the continent!
Tanzania and Kenya remain two of Africa's most popular safari destinations, and are a great pairing for a longer trip. Goway's Essential Kenya and East Africa Safari itineraries now include visits to Samburu National Reserve and Lake Elmenteita. Along with these exciting additions, Goway is pleased to introduce private, daily departures for small groups of four passengers or more at no extra cost. These departures are available on seven of Goway's most popular safari itineraries with more to come.
Globetrotters craving an East Africa experience with a difference can participate in a volunteer program in the Masai Mara, spending 13 days working alongside locals. Projects range from lion research to helping improve facilities at a local school, to training and educating budding safari guides. Volunteers will also learn from their Masai colleagues about life in the African bush, before embarking on an unforgettable Serengeti and Ngorongoro adventure, finishing on the spice island of Zanzibar.
These experiences and many others are waiting to be discovered in Goway's 2014 Africa brochure, including a stay at the unique Giraffe Manor, where guests never know who may pop in (through the window) for breakfast!
The new brochure also features a range of new travel ideas and favourite itineraries for Southern Africa, North Africa including Morocco and Egypt, and the Middle East.
Since 1970, Goway has been providing unforgettable travel experiences to Africa, Asia, Australia and New Zealand, idyllic island destinations and Latin America. Today Goway is recognized as one of North America's leading travel companies for individuals, families and groups to select exotic destinations around the globe. Goway has offices in Los Angeles, Vancouver, Toronto, and Sydney (Australia).
For reservations and information, visit http://www.goway.com, call your Travel Professional or 1-800-387-8850.