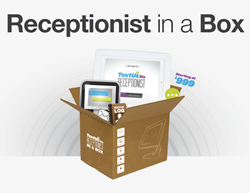 Our customers love it when our Receptionist shows up in the form of a beautiful new iPad, ArmorActive enclosure, and desk-top stand, ready to plug and get to work!
Salt Lake City, UT (PRWEB) October 17, 2013
With the significant expansion of the mobile application marketplace, many companies are looking for ways to harness disruptive technology to reduce the cost of doing business. One of the costs being re-factored by businesses is the receptionist position. Though going without a receptionist is sometimes necessary to keep a company lean, the services they provide can increase productivity and allow visitors to feel welcome. This is why ArmorActive and TextUs.Biz worked together to create the Receptionist in a Box, an iPad kiosk solution that performs advanced receptionist tasks at a fraction of standard wages.
Similar to a human at the front desk, the Receptionist iPad kiosk is the first point of interaction that visitors encounter. Available in black or white, this sleek tabletop iPad kiosk is a very approachable solution for any professional environment. ArmorActive's Gravity Flip iPad stand features a quick release function, which allows the user to remove the Evolve enclosure from the kiosk when mobility is needed. The table stand is also designed to be securely mounted so the kiosk can be left unattended. As an upgrade, the Radius floor stand can be combined with this solution to provide a freestanding receptionist kiosk for users that don't have counter space available.
"ArmorActive has been a great partner in facilitating our ability to provide a high quality, all-in-one, solution for offices with the Receptionist in a Box" stated Ted Guggenheim, President of TextUs.Biz. "Our customers love it when our Receptionist shows up in the form of a beautiful new iPad, ArmorActive enclosure, and desk-top stand, ready to plug and get to work!"
The TextUs.Biz Receptionist iPad app provides simple, yet practical features. For example, the app enables visitors to send a text message and/or email to the person they are visiting, notifying them of their arrival. Mail delivery services can even use the app to alert the recipient of a package. And one of the most convenient features the Receptionist app provides is an ongoing visitors log, listing arrivals and departures.
"Because pairing apps with our hardware is key to the success of our business, partnering with TextUs.Biz has been a natural fit," said ArmorActive CMO Nick Ames. "And like most startups seeking to keep overhead low, we enjoy having a receptionist iPad kiosk at our front desk as well."
The Receptionist in a Box iPad kiosk comes ready to use right out of the box and includes the following:
● Secure ArmorActive iPad enclosure and table stand (floor stand optional)
● An iPad 2 pre-installed with the Receptionist App
● 6ft. power cable
● First 2 months of the Receptionist service included
● Free 2nd day shipping
Cost: $999 plus a no-contract, month–to-month service plan after the 2nd month.
The Receptionist in a Box is one of several "business in a box" iPad kiosk solutions built by ArmorActive. For example, the "Feedback Kiosk" enables businesses to gather real time feedback from their customers via Terillion's iPad app and is "boxed" with an ArmorActive table stand, tethered stylus, and the iPad tablet. Another bundled solution is the "Text Wait List Kiosk," which alerts restaurant diners with a text message when their table is ready. The ease of ordering, shipping, and installing these all-in-one solutions is why the business in a box concept is the next wave in tablet kiosk products.
ArmorActive's business in a box solutions only represent a fraction of the custom solutions that ArmorActive has implemented for their clients. Their wide variety of tablet kiosk products and services, combined with leasing programs and professional consulting, provide the most comprehensive tablet kiosk options on the market.
About ArmorActive
ArmorActive, Inc. is an enterprise-level tablet solutions company, providing hardware, software, and mobile applications to customers worldwide. Our team of experts is comprised of some of the most intuitive minds in the nation, which enables us to constantly engineer the highest quality products and provide the best customer service in the industry.
About TextUs.Biz
Boulder, Colorado based TextUs.Biz was created in 2012 by Ted Guggenheim, Andrew Kimmell and Mike Hickman with one simple mission: to disrupt traditional voice, email and short-code communication channels by unleashing the SMS capabilities of a business' existing landline. TextUs.Biz now offers a suite of SMS-powered applications for businesses. These solutions can now be found in offices, retailers, restaurants and customer service organizations around the world.