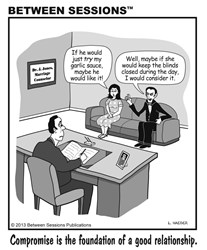 Cartoons can have a profound influence on our awareness. They are a great way to get a message across that might otherwise be overlooked.
Norwalk, CT (PRWEB) October 04, 2013
Talk To An Expert, Inc., a company that provides practice enhancement services for therapists and coaches, has introduced a weekly cartoon series aimed at opening discussions on a wide variety of psychological topics, including bullying, parental role models, and fostering acceptance in a marriage. The new cartoon series is called "Between Sessions." The cartoons are part of the company's new initiative to provide helpful content for its professional customer base of therapists and coaches.
"Cartoons can have a profound impact on awareness," notes company founder Lawrence Shapiro, Ph.D., a psychologist and author, "they are a great way to get a message across that might otherwise be overlooked."
The cartoons are posted on the company's website, Twitter and Facebook pages with the intention of getting as wide a distribution as possible. Dr. Shapiro believes that mental health needs to more a part of the public's awareness, preferably on a daily basis. He explains: "We only hear about mental health issues when something terrible happens, like a mass shooting, or a teen suicide caused by bullying. But mental health is a daily issue for all of us, and we'd like to see this as part of a national dialogue. Many mental health problems are preventable, but only if we pay attention to early warning signs." Shapiro is the author of "An Ounce of Prevention: How Parents Can Stop Emotional and Behavioral Problems Before They Start" (HarperCollins, 2000).
The comics are conceived by Dr. Shapiro and his creative team of Tom Alpert and Rachelle Kreisman. They are drawn by illustrator and graphic artist Leigh Haeger.
The cartoons are also part of the company's efforts to help its professional customers with their marketing. Talk To An Expert, Inc. began by making communication software for therapists and coaches to connect with clients on their website or blog, but they quickly realized that many professionals suffer from a lack of web traffic, and so they began an effort to help these professionals become better marketers. The "Between Sessions" cartoons are part of larger effort by the company to provide free content to its customers which they can post for their clients. The cartoons and downloads can be found at: http://www.talktoanexpertinc.com/free-downloads.html
Talk to an Expert Inc. is developing a variety of downloadable worksheets, behavioral contracts, rating scales and other psychological tools, which are free on its website and newsletters. Shapiro notes, "Content marketing is a driving force in attracting clients to a website, but many therapists and coaches don't have the time to create their own content. We hope that our practical downloads, including our cartoons, will help professionals in serving their clients and also spreading the word about their services."
By the end of this year, Talk to an Expert Inc. will be introducing the full "Between Sessions" website, which will feature a wide variety of downloadable psychological tools and self-help homework.
Talk to An Expert, Inc. is located in Norwalk, CT.