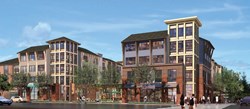 Kirkland, Washington (PRWEB) October 03, 2013
MainStreet Property Group LLC, a Washington-based real estate development firm, announced today the sale of its newly completed mixed-use development project, Slater 116, located in Kirkland, Washington. Essex Property Trust purchased the 108-unit property for $29.6 million, a transaction facilitated by Jones Lang LaSalle.
The recently completed Slater 116 project features modern units with diverse floorplans, and more than 10,000 square feet of ground-floor retail space. Initial retail tenants include: TD Curran, an Apple Retail Specialist and Urban Coffee Lounge. Located within easy commuting access of Seattle's and the Eastside's major employers, the property meets a growing demand for newly constructed units in the thriving Kirkland area.
For MainStreet Property Group LLC, the sale of Slater 116 represents the latest of several significant transactions over the past 90 days. Earlier in September, the company announced the opening of a 115-unit apartment building, The 104 (liveatthe104.com), located in downtown Bothell, Washington. It also recently started construction on a 5-story, 203-unit urban retail/apartment community, Six Oaks (liveatsixoaks.com), located in Bothell, Washington.
Additionally, the city of Kenmore chose MainStreet as the buyer for a 4.6-acre upper parcel of Kenmore Village in Kenmore, Washington. MainStreet anticipates a 220-unit apartment community, slated to begin construction in June, 2014.
MainStreet Property Group LLC is dedicated to enhancing communities through the development of properties that enhance and energize the community. For more information, visit http://www.mainstreet-residential.com.