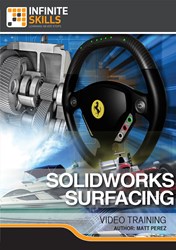 Learn SolidWorks Surfacing at your own speed
(PRWEB) October 01, 2013
Software training firm Infinite Skills Inc. last week introduced its "SoldWorks - Surfacing Tutorial," a specialized course teaching the tools and techniques involved in mastering surfaces in this popular mechanical engineering design program.
SolidWorks is a 3D-modeling program designed for mechanical engineers that allows users to create models by joining working parts into assemblies and sub-assemblies. SolidWorks software includes many advanced surfacing features that allow users a high-degree of control and differentiation when creating surfaces.
With the Infinite Skills' "SolidWorks - Surfacing Tutorial," mechanical designers can learn to harness these powerful features to create realistic models that are more representative of the various materials used in the design.
SolidWorks - Surfacing Tutorial - DVD
Course author Matt Perez is a certified expert in SolidWorks who has worked in training and private training consulting, helping companies develop training strategies and improve efficiency in the program since 2011. He was recently recognized by SolidWorks for a tutorial on SolidWorks that focused on designing a Chevrolet Camero. He has been using SolidWorks since 2009.
Here, Perez organizes the course around designing a Ferrari Enzo steering wheel, demonstrating how to apply various colors and textures as he guides students toward the finished product.
Following a brief introduction in which he explains how to set up the command manager, load a sketch, and organize a design plan, Perez dives into the technical processes of creating distinct, professional-grade surface textures, teaching users how to work with splines and spline geometry, and how to apply basic and complex surfaces.
As he progresses through the design of the steering wheel, he also covers details like illumination and materials as users build in the various elements of the model.
After completing the structure by surfacing the hand grip area, adding details like the thumb depression area and the turn signal button, Perez explains how to finish the model by adding materials, setting up a scene, and performing the final render of the model.
Free demo videos and a full list of course contents can be found on the SolidWorks - Surfacing training page of the InfiniteSkills website:
http://www.infiniteskills.com/training/solidworks-surfacing.html
InfiniteSkills offers its SolidWorks - Surfacing Tutorial either as a DVD or a direct download from the company website at a retail price of $24.95. Though the compatibility of programs varies, all InfiniteSkills titles and formats are compatible with both Mac and Windows operating systems, and shipping is available around the globe. Additionally, InfiniteSkills tutorials are supported by project files which correspond to examples in the videos.
About Infinite Skills Inc.
A leader in the field of software training, Infinite Skills designs its courses on a task-oriented model, teaching complex skills by providing hands-on examples and guiding users as they carry out essential functions. Infinite Skills offers a wide range of software titles available as DVDs, digital downloads, and in iPad editions. Infinite Skills now offers a subscription service, providing access to all its training content for a monthly fee, keeping with company's aim of delivering professional training to customers anywhere they want to learn.