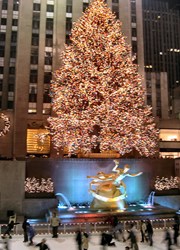 New York, NY (PRWEB) October 01, 2013
A 69 to100 feet tall Norway spruce, wrapped in 300,000 energy efficient LED lights with a 9.5 foot wide, 550 pound Swarovski star perched on top—is scheduled to be lit in Rockefeller Plaza (between West 48th and West 51st Streets and 5th and 6th Avenues) at 9pm on Wednesday, December 4th. The Rockefeller Center Christmas Tree Lighting ceremony has been an honored tradition and one of New York City's most celebrated events for over 80 years and now is the right time to starting planning to see this spectacular sight.
With each passing year, more and more people are crossing this event off their bucket lists, which can make Rockefeller Center get pretty crowded fairly quickly and New York City Vacation Packages (NYCVP) thought to offer some tips to make the best out of this truly enchanting experience.
When attending the Rockefeller Center Tree Lighting ceremony, keep in mind:

Arrive very early to get a good viewing spot, and expect to stand for several hours. Rockefeller Center closes to pedestrian traffic in the late afternoon.
Dress warm! December in NYC can get very cold. Bundle up in parkas, break out the fleece gloves and scarves.
Check the weather before arriving. If there is rain or snow in the forecast, bring an umbrella and other weather-appropriate items.
Avoid driving. There is mass transit available to Rockefeller Center, and streets surrounding the event are subject to close the evening of the ceremony.
When in the Plaza, the NBC festivities from the ice skating rink below can be viewed on a huge jumbotron TV attached to 30 Rockefeller Plaza.
And if standing outside for hours on end in the rain or the snow doesn't sound ideal, there are warm, indoor special events centered around the famed tree lighting ceremony available to make the most of any Christmas vacation. One such event is the Rockefeller Tree Lighting Party found at NYCTrip.com. The party is located at the center of Rockefeller Center in the Brasserie Ruhlmann (45 Rockefeller Center) and is scheduled from 7:30pm to 10pm. Attendees will be served hor d'oeuvres and drinks and have access to facilities, while others crowd outside in the cold.
The tree will remain erected through January 7th. After the first official lighting on December 4th, the tree is illuminated daily from 5:30am until 11:30pm. On Christmas, the tree will be lit for a continuous 24-hours, and on New Year's Eve the lights are turned off at 9:00pm in anticipation of the New Year's Ball Drop in Times Square.
About NYCVP
NYCVP - New York City Vacation Packages (http://www.NYCTrip.com) - is an NYC travel information authority and the only major independent tour company in the USA devoted exclusively to NYC travel, offering services to make sure your vacation is safe and secure. NYCVP is a member in good standing of NYC & Company (New York City's convention and visitors' bureau), National Tour Association and the American Society of Travel Agents.