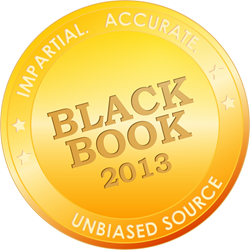 Hospital executives estimate RCM consulting expenditures will grow 200% through 2015 as reimbursement uncertainties and lack of preparedness escalates cash flow problems.
Clearwater, Florida (PRWEB) October 08, 2013
In a series of eight research reports on the 2013 State of the Revenue Cycle Management industry, Black Book™ releases comprehensive findings of IT and services users on the trends and directions of hospitals and physician practices. The top ranked vendors in customer satisfaction and client experience among RCM transformation consultants are announced after a sweeping six month poll.
The "Top Revenue Cycle Management Transformation Consultants" report provides analysis on the replacement RCM technology environment as organizations upgrade patient billing and collection processes. According to Black Book Rankings, the hospital RCM software and services industry recently valued at $2.5 billion has hospitals and physician practices flocking to consultants for help with business shifts encountered from reimbursement and payment reforms, accountable care participation, ICD-10 coding challenges, problem collections, and declining margins.
The top RCM Advisor performance was polled of 3,957 CFOs and CIOs, patient accounting and IT support management from 392 hospitals, as well as Business Office Managers from physician groups, clinics and IPAs. 129 consulting firms specializing in end-to-end RCM, as well as boutique RCM services were identified by clients on twenty key performance indicators across five areas of RCM functionality: Billing, Charge Capture and Coding; Claims Management; Reimbursement, Insurance and Payor Management; Payment Resolution and Collections; and Analytics and Decision Support.
Ranking first in RCM consultant client experience among Small and Rural Hospitals under 150 Beds was Emdeon. Other top honors were achieved by (in alphabetical order): ECG, G2N, HFS Consuling, MedAssets, MediRevv, Optum, Parallon, Revenue Masters, and the ROI Companies.
Ranking first in RCM consultant client experience among Community Hospitals 151 to 300 Beds was MedAssets. Other top honors were achieved by Avadyne, Conifer Health, Emdeon, Ernst & Young, HSMN, NCO Group, Optum, Parallon, and Peer Consulting.
Ranking first among Large Hospitals and Academic Medical Centers over 300 Beds was Beacon Advisors. Other top honors were achieved by Accenture, Accretive Health, The Advisory Board, Conifer, CTG, Deloitte, Emdeon, MedAssets, Navigant,and Pricewaterhouse Coopers.
Ranking top advisor for Hospital Chains/Systems, IDNs, and Accountable Care Organizations was Accretive Health. Top honors were also earned by Beacon Partners, Claro Group, Conifer Health, CSC, Deloitte, Huron Consulting, MedAssets, Parallon and Xerox (ACS).
Ranking first in consultant RCM services within Physician Practices and Groups, Clinics and IPAs was ECG. Other top honors were achieved by Alleviant, Besler, FTI Consulting, G2N, Grant & Weber, Health Directions, MGMA Consulting, Multicare Pinnacle, Physician Business Services, and Stellar.
Top Findings in the 2013 Black Book Revenue Cycle Management Consultants, Experts and Advisors report includes:
90% of current and prospective RCM advisory clients estimate a doubling over current budget expenses for add-on RCM projects in 2014. 36% of CFOs that consider their hospitals "light or occasional users" of RCM advisory services claim their respective facilities will likely spend four fold by 2015 compared to the past twelve month period.
86% of hospital C-level executives expect new RCM consulting engagements to be underway or continuing through the end of calendar year 2014. 57% forecast new RCM advisement projects to initiate no later than June 2014.
66% of RCM-centric consulting firms expect to be hiring additional RCM experts, financial and technology, in the next six months. 92% of general management consulting firms are considering expanding or adding RCM to their firm's high growth practice goals.
Of the 58 RCM head hunting firms contacted by Black Book, about one third claim they are currently experiencing difficulties finding qualified RCM experts to fill open positions and 90% anticipate longer searches ahead for next generation-qualified RCM staff as the industry confronts RCM expert shortages in 2014.
Hospital executives primarily attribute the increased demand for RCM advisory services on several factors out of their scope of current expertise:
77% have no strategic plan activated for transforming RCM solutions end-to-end to confront known deadlines because there are no internal experts identified;
Of the 84% stating they are either replacing either (or all) RCM IT solutions, vendors, current service delivery processes or outsourcers within the next 12-18 months, less than 20% of hospitals have begun comprehensive vendor selection activities and are considering consultants to assist them;
89% of CFOs confirm they are confident that the hospital does have the FTEs budgeted for RCM transformation activities;
80% of CIOs state they do not have the information technology or staff in-house needed to transform RCM end-to-end as their executive team envisions;
76% of CFO's in self-defined low-performing hospitals anticipate an avalanche of RCM issues in 2014 requiring external advisement for survival, including avoidance of layoffs and bankruptcy;
35% of CFOs do not feel they have board/CEO/senior leadership support currently to transform RCM independently without external advisement; and
94% of CFOs will demand veto power over the RCM consultancy selected. 83% fear the hospital board/CEO may select a familiar, general management consultant firm with an established hospital relationship instead of using a narrow-focused RCM specialty advisory with transformation successes, leading to delays and significant cash flow problems.
"Real end-to-end RCM transformations require complex technology optimization, strategic assessment of patient mix and payors, analytics, decision support tools, staff training, outsourcing and new software implementations," said Doug Brown, Managing Partner of Black Book.
"Next generation RCM will not be achieved via old school directives to cut staff, slash expenses, and pushing RCM work to the lowest cost outsourcer. The new era of how providers get paid is going to impact the entire organization and most hospitals aren't remotely prepared for it," said Brown.
Reimbursement reforms, accountable care and complex claim management are areas of RCM creating significant opportunities for upstarts of hundreds of boutique, independent and niche RCM consultants, in response to the surge in the RCM engagement trajectory.
CEOs, CFOs and CIOs indicated Accounts Receivable Transformation,Technology Optimization, Cost Containment, RCM Software Implementations, ICD-10 Coder Training, Financial Division Reorganization, RCM Outsourcing assessments and Complex Claims Management among their most pressing RCM consulting engagements under evaluation in Q4 2013.
About Black Book™
Black Book Rankings, a division of Black Book Market Research LLC, provides healthcare IT users, media, investors, analysts, quality minded vendors, and prospective software system buyers, pharmaceutical manufacturers, and other interested sectors of the clinical technology industry with comprehensive comparison data of the industry's top respected and competitively performing technology vendors.
The largest user opinion poll of its kind in healthcare IT, Black Book™ collects over 400,000 viewpoints on information technology and outsourced services vendor performance annually. For methodology, auditing, resources, comprehensive research and ranking data, see http://www.blackbookrankings.com.