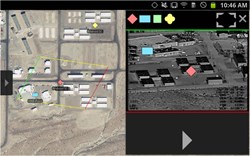 It's one thing for a user behind a desk in a climate-controlled office to toggle back and forth between 10 windows, deal with system crashes, and wait 60 seconds for booting up; It's another thing to deal with that while someone is shooting at you.
Cambridge, MA (PRWEB) October 08, 2013
Troops under the gun during battle can more easily call in airstrikes -- and reduce friendly and civilian casualties while doing so -- through using an Android app that the military is developing with an industry group led by Draper Laboratory.
Troops can also use ATAK (Android Terminal Assault Kit), for other purposes, including battlespace awareness, navigation, de-conflicting airspace, and controlling fleets of unmanned aerial vehicles. Draper also recently added survey tools for quickly building new landing zones, as well as a Jumpmaster tool that enables paratroopers to plan high altitude, low opening jumps, and track each other and supplies as they descend.
Special Forces recently began limited use of a prototype of the app during operations overseas, and wider fielding could follow next year.
Draper is working with the Air Force Research Laboratory's Information Directorate in Rome, N.Y., to develop the app's video whiteboarding capability, and incorporate user input into new features. Draper began working on the app under the informal name "TacDroid" in 2010.
In initial operations in Afghanistan, troops called in airstrikes using GPS receivers, while keeping a wide variety of information including the location of friendly forces and civilians; as well as the status of nearby aircraft and their approaching speeds, time they may reach targets, and munitions onboard, in their heads, and discussing it with pilots in aircraft overhead. This created the potential for transcription, communication and memory errors.
The military later upgraded this capability with rugged laptop computers that are primarily useful for mission planning and some vehicle mounted operations, even though they are intended for field use by dismounted troops. While the laptops are small, the software is better suited for use in operations centers than in the midst of battle, causing some troops to avoid taking them on missions.
ATAK uses the Android OS to introduce a mobile computing solution through tablets and other handheld devices that connect with military radios and boot up quickly, are more intuitive to operate during the stress of battle, minimize heads-down time, and much easier to carry than the laptops. Tablets can fit into cargo pockets in pants and jackets; smaller handheld devices can be strapped to wrists and forearms.
Draper designed ATAK to be a map-based interface that enables the troops on the ground and those in aircraft to share information and maintain constant situational awareness. Troops on the ground can use the app to add context to raw video feeds, such as labeling buildings as schools or hospitals so they are avoided during battle, or designating pickup points for evacuation. This whiteboarding capability minimizes the need for discussion over voice channels during battle or other situations where it is faster to graphically designate points of interest.
"It's one thing for a user behind a desk in a climate-controlled office to toggle back and forth between 10 windows, deal with system crashes, and wait 60 seconds for booting up," said Laura Major, who leads Draper's human centered engineering work. "It's another thing to deal with those issues while someone is shooting at you or if you're jumping out of a plane. That's where ATAK comes in."
The military services have used ATAK during variety of live-fire exercises with aircraft including F16s and A10s, and have demonstrated the ability to call in airstrikes that successfully neutralized targets with at least 50% fewer clicks from the users than the laptop-based systems. Operators who used the app during the exercises also indicated that by keeping all of the information in a well organized, easy to access display, the likelihood of friendly fire accidents, civilian casualties and collateral damage would be significantly reduced.
Draper engineers went through military training exercises that replicated some of the challenges that troops face in the field in order to better understand the way they think. Doing so enabled the engineers to design the app so that troops could use it after watching an embedded 15 minute video, rather than go through days or weeks of training as is typical with the alternative systems.
A video about the project can be found here: http://youtu.be/LH74OWHuSpY.
Draper Laboratory
Draper Laboratory, which celebrates 80 years of service to the nation in 2013, is a not-for-profit, engineering research and development organization dedicated to solving critical national problems in national security, space systems, biomedical systems, and energy. Core capabilities include guidance, navigation and control; miniature low power systems; highly reliable complex systems; information and decision systems; autonomous systems; biomedical and chemical systems; and secure networks and communications.