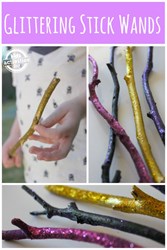 Magic wands can be made in minutes and inspire hours of creative playtime.
Dallas, Texas (PRWEB) October 08, 2013
Halloween is just around the corner. An easy to do wizard wand craft and a not-so-spooky Halloween game has been released on Kids Activities Blog. Both activities can be easily done with items found around the house and they sneak in a bit of learning, too.
Add a little sparking magic to the Halloween dress up with the easy to do wizard wand. All one needs is a stick, some paint, and a touch of glitter. The craft takes only minutes and it is perfect for boys and girls. It adds some sparkle to the little witches and wizards this Halloween.
Step one is collecting sticks in the yard or during a nature walk. Step two is painting the entire stick with paint. Gold looks the best but is not required. Other great colors are purple and black. Step three is adding glitter to the wet paint.
Ideas to add to the magic wand include bands, ribbons, star cut outs, stickers or bells. The stick makes a perfect party favor and will spark hours of imaginary playtime for kids.
A fun hands on not-so-spooky Halloween sight word game is perfect for a fun Fall afternoon. Kids will love the element of spooky fun while learning a new set of words at the same time.
Materials needed are orange paper, a marker, toothpicks, some play dough, and lots of Halloween decorations on the table. With a marker, write Halloween related words on the cards. Group them by noun, article, verb, and so on. Check out the word list on Kids Activities Blog.
Take turns making fun sentences by sticking in the words in order in the play dough. Variations of the game can be played by making up wrong sentences and letting the kids correct them.
For detailed instructions and to get additional fun games for kids, check out Kids Activities Blog this week. Come get inspired to let the kids have a blast with fall themed activities.
About Kids Activities Blog
Kids Activities Blog is a website created by two moms (who collectively have 9 children), Rachel Miller and Holly Homer from June Cleaver Nirvana. It is their daily goal to inspire parents and teachers to play with kids. This interactive website publishes simple things to do with kids twice a day. Kids Activities Blog is a great tool for moms and teachers to find kid-friendly activities that create memories and sneak learning into the fun.