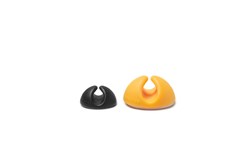 Pasadena, California (PRWEB) October 01, 2013
As devices shrink and their associated cables wither away to become slimmer, lighter and more compact, Bluelounge today announces a tinier version of its ever-popular CableDrop to grasp smaller peripheral cords. The CableDrop Mini, like the original CableDrop, is designed to gently clasp cables and keep connectors within reach when devices are unplugged.
Consumers no longer have to worry about fishing around under their desk or behind their bedside table to find the elusive cable that undoubtedly slips away when it is not tethered down. CableDrop Mini has a self-adhesive backing so users can peel and stick anywhere they need to route their connectors.
Once affixed, CableDrop Mini stays stationary allowing users to adjust the length of cable they need or easily hook and unhook cables held within its grasp.
CableDrop Mini is available in Black or White at a suggested retail price of $9.95. Each package contains nine CableDrop Minis and is recommended for use with the Apple Lightning, Micro-USB or small peripheral cables.
For more information on CableDrop Mini, visit http://www.bluelounge.com.
Follow Bluelounge on Twitter and on Facebook for the latest news on all Bluelounge products.
About Bluelounge
Bluelounge is an award-winning, international design studio known for its clever products that solve everyday problems through design.
Each product is designed to provide an effortless solution that stands the test of time and integrates into your life so seamlessly, you can't remember living without it.
Under the creative direction of Dominic Symons, the Bluelounge team is a vibrant collective that champions ingenuity and embraces creativity to fuel innovation.
Bluelounge is headquartered in Singapore, with studios in Jakarta, Indonesia and Pasadena, California.
Bluelounge products are currently available online and at select retailers worldwide. To find a retailer nearby, please visit our store locator.
Note to reporters: High-res images are available here: http://www.bluelounge.com/media.
Media Contact:
Kaitlin McIntyre Hawk
Bluelounge
P | 626.564.2802 ext. 706
kaitlin(at)bluelounge(dot)com