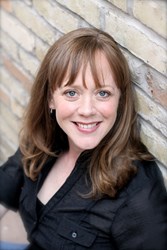 "Kate Hopper is warm, encouraging and someone who knows her stuff… For mothers looking to publish or just make sense of a story gestating in their heads, Use Your Words is a good place to start."—Brain, Child
(PRWEB) October 01, 2013
Kate Hopper, author of Use Your Words: A Writing Guide for Mothers (Viva Editions, also available on Audible), is featured on Motherhood Later, a website that speaks to "moms that have more life experience than baby experience." She shares her personal experience with writing about motherhood, and why it is so crucial to her experience as a mom, and provides advice and guidance for mothers looking to branch out and begin to write.
In an intimate peek into her writing process, Kate confesses that she uses writing as a way to keep herself centered and sane after the premature birth of her daughter Stella: "I was doing the only thing I knew how to do to make sense of what happened to me, to us—I was writing."
Kate also gives a short, hands-on exercise that every mother can use to jump-start their creative process:
"Think about the time when your child (or one of your children) was born, when s/he first arrived home, or even before he or she was born."
Even for mothers who have yet to start writing down their thoughts and ideas, Kate says that "It's never too late to start writing about motherhood.
Find Kate Hopper in person at Litquake:
10/18/2013, 6pm
"Mothers: The Good, the Bad, and the Untidy"
$10 advance/$12 at door
Hotel Rex
562 Sutter St.
San Francisco, CA
Use Your Words: A Writing Guide for Mothers by Kate Hopper is the first book to focus on the craft of writing using motherhood as the lens. According to an October 2010 article in Ad Age, there are 3.9 million mommy bloggers. Unlike other writing guides for mother writers that focus on journaling or how to fit writing into a busy life, Use Your Wordsis a writing workshop between covers. Each chapter contains a lecture, a published essay by a contributing writer, and exercises that will serve as jumping-off points for the readers' own writing.
Kate Hopper holds an MFA in creative writing from the University of Minnesota. She teaches writing online and at The Loft Literary Center in Minneapolis, where she lives with her husband and two daughters. Kate has been the recipient of a Fulbright Scholarship, a Minnesota State Arts Board Grant, and a Sustainable Arts Grant. Her memoir, Small Continents, is about the power of stories and learning to live with uncertainty in the wake of her older daughter's premature birth. Her other writing has appeared in a number of journals, including Brevity, The New York Times online and Literary Mama, where she is an editor.