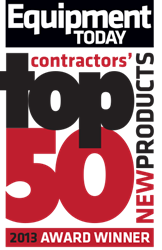 The Contractors' Top 50 New Products represent the leading edge of innovation, quality, efficiency and environmental conservation in the construction equipment field.
Fort Atkinson, Wisconsin (PRWEB) October 01, 2013
Contractors researching construction equipment purchases can find the hottest new construction products, courtesy of the readers of Equipment Today, the commercial contractor's leading equipment information resource, and visitors to ForConstructionPros.com, the construction industry's #1 web portal. Equipment Today and ForConstructionPros.com solicited feedback from construction equipment owners and end users to identify the top new products featured in the publication and on the website over a 12-month period. These selections make up the 2013 Contractors' Top 50 New Products.
Nominations for the Contractors' Top 50 New Products were organized into eight categories based on product type or application. Winning products, which are featured in the September issue of Equipment Today and a special section of ForConstructionPros.com, represent the leading edge of innovation, quality, efficiency and environmental conservation in the construction equipment field today. The combined print and online coverage will benefit contractors seeking to update or replace their aging equipment fleets.
The following companies and products were identified as the 2013 Contractors' Top 50 New Products:
EARTHMOVING:
Bobcat 500 Frame-size Loaders
Case CX470C Hydraulic Excavator
Caterpillar 336E H Hybrid Excavator
Gehl V400 Skid Steer
IHI AS12 Skid Steer
John Deere K Series Backhoe-loaders
Komatsu D61-23 Crawler Dozer
Takeuchi TS-Series Skid-steer Loaders
Volvo Expanded C-Series Loader Line
Yanmar Skid-steer Loaders
ATTACHMENTS:
FAE Skid Steer Mulchers and Attachments
Grouser Products V3 Flex Plane
K-W KWIK-WAY Rotary Rock Picker
Paladin's Bradco Ground Shark Brush Cutter
Pavement Technologies SkidPatcher10A
SideTool SideTrencher Coupler Package
TRUCKS & TRANSPORTATION:
Featherlite Model 1611 Trailer
Felling Air Ramp Technology
GMC 2014 Sierra Pickup Truck
Ram 2013 2500/3500 Pickups
Toyota 2014 Tundra Pickup Truck
Truckcraft TC-508 ARROW Flatbed
Western Star 4700 Tractor
Whelen Fleet-Rack
DEMOLITION & RECYCLING:
Bosch DH1020VC Demolition Hammer
Bron 475 Forestry Mulcher
Hilti TE 700-AVR Demolition Hammer
Vermeer BC900XL Brush Chipper
ENGINES & COMPONENTS:
Cummins QSF2.8 Diesel
Michelin X-Tweel SSL
Plews/Lubrimatic UltraView Grease Guns
PulseTech SP-5 Solar Battery Charger Maintainer
ROAD BUILDING:
Allen RS844 Roller Screed
GOMACO GT-3200 Sidewalk Paver
Overbuilt Easi-Pour Compact 880 Paver
Roadtec RX-600e Cold Planer
TECHNOLOGY:
BearCom Motorola BC130 Radio
Handheld US Nautiz X1 Smartphone
RMT Multi-camera Operator Vision Systems
Trimble GCS900 Grade Control System Version 12.2
LIFT EQUIPMENT:
Genie GTH-1544 Telehandler
Global Crane Sales RT100 Crane
IMT 40 tm and 50 tm Articulating Cranes
JLG X550AJ Compact Crawler Boom Lift
WORKSITE PRODUCTS:
Cushman Hauler Utility Vehicles
Miller Electric Trailblazer 275 and 325 Welder/Generators
Northern Tool NPower Dominator 1000
Stihl GS 461 Rock Boss Concrete Saw
Subsurface Instruments All Materials Locator (AML)
Victor Tweco Fabricator 211i Welder
Construction professionals can follow construction news via Twitter and Facebook.
For more information, contact Becky Schultz, editor of Equipment Today magazine, at 800-547-7377.
About Cygnus Construction Network
Cygnus Construction Network, a division of Cygnus Business Media, reaches more than 100,000 construction professionals each month through its ForConstructionPros.com web portal, National Pavement Expo, digital news offerings and print publications: Equipment Today, Concrete Contractor, Sustainable Construction, Rental, Asphalt Contractor and Pavement Maintenance & Reconstruction.
Cygnus Business Media reaches millions of professionals annually. As one of America's top business-to-business media companies, Cygnus is leading the way in providing targeted content to top decision-makers and organizations. The company's corporate initiatives and organizational architecture are built with one goal: to fully engage audiences in building and construction, public safety and security, aviation, agriculture, transportation, printing, accounting, vending, and other markets.