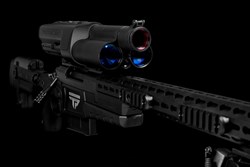 First shot is a tenfold improvement over what most trained shooters can do.
Austin, TX (PRWEB) October 03, 2013
Technology review outlet CNET, a few weeks after a video interview with TrackingPoint CEO Jason Schauble, published an in-depth article and review of TrackingPoint smart rifle technology. CNET's Dara Kerr travelled to Austin, TX to go out to the range with Firearms Expert August Crocker and take a look at the technology behind smart rifles, which enable long range ethical harvesting of game for hunters. The article discusses how hard long range rifle hunting is, a tutorial on how the 388 Lapua XS1 system works, and other innovations in firearms technology happening around the world. They also mention the secretive Remington 2020 collaboration that TrackingPoint has been working on since its announcement in May.
TrackingPoint produces the worlds first Precision Guided Firearm (PGF), a system consisting of a custom long range hunting rifle, Networked Tracking Scope, Guided Trigger and precision ammunition. Controlling all the variables in this system allow TrackingPoint users to take long distance shots with incredible accuracy and high first shot success probability. In addition to calculating all environmental and ballistic factors, TrackingPoint rifles have a barrel reference system that reduces the need to zero the rifle, as well as adaptive lifecycle ballistics, which understand how the rifle's performance changes with age. All of these technologies put a quantum leap in firearms in the hands of any TrackingPoint user, of which CNET notes there are now hundreds, with even more waiting in line for up to 6 months to get their hands on a Smart Rifle.
Ms. Kerr fired and hit with the Smart Rifle at extended range out at Texas' Best of the West range, despite having only held or used any firearm (a shotgun) twice in her life. August Crocker, a Firearms Expert, longtime hunting enthusiast, and professional shooting competitor, also explained some of his background, the influence of Founder John McHale, and why August joined the company.
"First shot is a tenfold improvement over what most trained shooters can do," Crocker said. "I've shot with the best. I've shot with Olympians in Finland, and nothing comes close to the capabilities we have. There are so many things that Mr. McHale conceptualized. That's how I personally became so wowed, how many innovations he brought into the system."