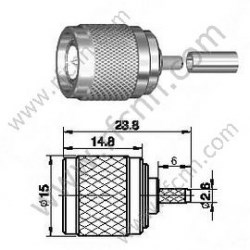 (PRWEB) October 02, 2013
Recently, RFcnn.com, a renowned RF connector manufacturer and manufacturer, has launched a promotion of TNC connectors, i.e. All its TNC connectors are offered at new low prices. According to the CEO of the company, early buyers will receive extra discounts before Oct. 18, 2013.
RFcnn.com has much experience in the industry, and it represents the leading edge of innovation, efficiency, quality, and environmental conservation in the RF connector field today. Now, the company aims to save the clients valuable time by providing them premium quality products at possible lowest rates.
"We offer a great collection of RF connectors for the clients worldwide. Thanks to the fast development in the past few years, we have become one of the most popular RF connector suppliers, and this is supported with lots of facts and figures from the market. Please note that the promotion is valid until Oct. 18, 2013," says the CEO of the company.
Constructed of superior-quality materials, all the TNC connectors from RFcnn.com are designed to withstand the rigors of the busiest machinery. RFcnn.com's professional product ranges provide the buyers with a perfect experience. Moreover, customers can find more news about the latest products and designs in the industry at its website.
About RFcnn.com
RFcnn.com belongs to Zhenjiang Fourstar Electronics Co. LTD, which is a China based company that aims to provide customers high quality RF connectors at the lowest possible prices. A large proportion of RFcnn.com's customers will come back soon after their first deals.
More details about the company's high quality products and services can be found at http://www.rfcnn.com/TNC-Male-Clamp-Straight-For-LMR400-RF-Connector-445.html.