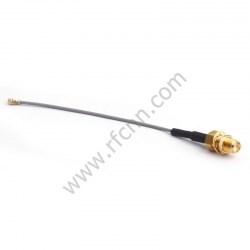 (PRWEB) October 04, 2013
Recently, RFcnn.com, one of the largest RF connector companies, has showcased its new SMA cables at many trade shows, and announce a special offer for all these products, up to 31% off.
The company's senior engineer, Mr. Robert, says that all RFcnn.com's SMA cables are designed for use from DC to 18 GHz. SMA connectors and popular semi-precision coaxial RF connectors. These cables have been widely used in the electronic industry. As a result, the company has received high satisfaction scores from its current users including some well-known brands.
With the development of economics, the requirements for SMA connectors and SMA cables have become higher and higher. The promotion is designed to attract more customers, so that the company can explore its international market rapidly.
The CEO of RFcnn.com says, "We are known as an innovation-based company, and we take pride in providing our clients with comprehensive solutions in ways no other company in our industry can. Our future growth opportunity in this market is expected to stem from the expansion of the electronic industry and commercialization for niche applications."
RFcnn.com is a well-known brand in the industry. The company can manufacture and export more than 200,000 RF connectors each month through its RFcnn.com web portal; the company deploys strict regulations and quality checks to ensure international standards of quality.
About RFcnn.com
RFcnn.com belongs to Zhenjiang Fourstar Electronics Co. LTD, which is a China based company that deals in producing RF connectors and passive devices. RFcnn.com has been a leader in the design and manufacture of RF connector products, offering a wide range of solutions and unmatched customer service for its clients worldwide.
More details about the company's high quality RF connectors can be found at http://www.rfcnn.com/SMA-Female-TO-U-FL-Cable-Assembly-Jumper-105.html.