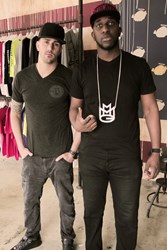 Atlanta, GA (PRWEB) October 03, 2013
Miami based streetwear brand 8&9 Clothing announces it's first Atlanta Pop Up Shop in conjunction with the A3C Hip Hop Festival. The four day event will be held at Threadz Boutique. Threadz has been a long time supplier of 8&9 Clothing since opening shop in Atlanta. Shoppers can expect styles previously limited to the brands' Miami Showroom in addition to the latest fall collection.
Friday night, 8&9 teams with DJ Scream for a rare meet and greet opportunity sponsored by Belaire Rose, HPG and Walk Like Us. Guests include DJ Scream, DJ Spinz, Dun Deal, Childish Major and SOS. The event will run Friday October 4 from 6-9pm at Threadz Boutique.
Saturday, 8&9 will release a limited edition sweatshirt only available at Threadz during the A3C Pop Up. Special guests, giveaways and whose who of artists performing at A3C are expected for Saturday's 12-9 day long event.
Threadz Boutique is located at 1060 St. Charles Avenue, Atlanta, GA 30306.
What: 8&9 Clothing A3C Festival Pop Up Shop / Meet & Greet Networking Event
When: October 2nd
Time: 12pm-8pm
Where: Threadz Atlanta
Address: 1060 St. Charles Avenue, Atlanta, GA 30306
For more information, please email inquiries(at)8and9(dot)com or call 786.409.2538.