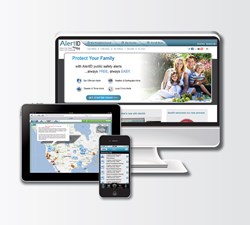 Knowing about the dangers in your area can make all the difference in protecting your family. - Keli Wilson, Founder of AlertID
Las Vegas, Nevada and Palo Alto, California (PRWEB) October 03, 2013
Today, AlertID is announcing an important free service that includes registered sex offender and other neighborhood alerts to help protect families and children in West Virginia. Families in West Virginia now join more than 270 million people in the U.S. who are covered, at no cost, by this important service.
Keeping children safe is every parent's greatest concern. According to the National Center for Missing and Exploited Children, there are more than 745,000 registered sex offenders in the United States (November 2011 report). The Adam Walsh Protection and Safety Act of 2006 requires states to provide public access to state sex offender information, but this information is not always easily accessible. In addition, states are not required to notify residents of any changes in the offender's information, such as home or employment address.
With AlertID, members can view a local map showing where registered sex offenders live or work in their neighborhoods. If an offender moves into their neighborhood, near their child's school or any other address the member would like to monitor, AlertID will automatically send an alert, which also includes important safety and prevention tips. AlertID also gives members and neighbors the ability to securely share information with each other, empowering the public and reducing crime. When traveling to other areas in the state or around the country, members can access the same information at no cost with AlertID's mobile app.
"Knowing about the dangers in your area can make all the difference in protecting your family. The more we know about what is happening in our neighborhoods and the more we share information with neighbors using AlertID, the safer our children and communities will be," said Keli Wilson, Founder of AlertID and mother of three.
While sex offender alerts are a key part of the program, AlertID also includes severe weather, earthquake, major hazmat, major national fire alerts, crime advisories for hundreds of cities, and more. Members also have access to the AlertID Live Safely Resource Center™ with over 200 searchable crime prevention and family safety tips and topics.
To sign up for a free account, or for more information, go to http://www.AlertID.com.
About AlertID
Live Safely™ with AlertID. AlertID is the safe way to receive trusted public safety alerts and share information with neighbors.
Alerts are provided by trusted sources including public safety agencies, local law enforcement, schools, neighborhood groups, neighbors, family members and friends. This first-of-its-kind, fast-growing network is the leader in helping people protect their families and communities throughout the United States and is poised to evolve into the world's go-to public safety and security resource. For information on critical public safety alerts and sharing information with neighbors, friends and family across the country, visit http://www.AlertID.com.