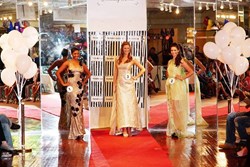 No matter where you come from or what your circumstances are you can achieve whatever you want to. You can achieve your dreams. -Sergio Armas, 2012 Winner Via KTRE Article
Dallas, Texas (PRWEB) October 02, 2013
The Competition continues. Who will be the next Terry Costa Catwalk Prom Design Competition Winner? Voting continues on our Facebook Page, and In Store.
The lucky winner will receive a $1,000 Scholarship from Terry Costa, Inc. and a day at the Dallas market with the Terry Costa Buyers. As we wait in anticipation of the announcement of the next Great Terry Costa Designer, the 2012 Competition Winner, has been adding to his own successes.
Sergio Armas, 2012 Catwalk Design Competition Winner, debuted his collection and a local newspaper published an article about his persistence and success. We cannot wait to see what successes will arise for the new winner. Voting ends October 6th.