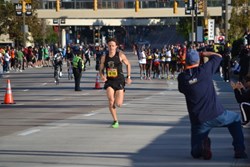 (PRWEB) October 04, 2013
October marks a month of milestones for Garrison Forest School science teacher David Berdan. On October 12, he will once again compete for a shot at winning the Baltimore Running Festival after a record-breaking finish in 2011. He came in 10th in the marathon in that year--the fastest-ever finish for a Maryland resident—and led the pack for the first 11 miles. A week later, David returns to run in the 2013 Susan G. Komen Race for the Cure in Hunt Valley to compete for his 5th win in a row. He has won the Hunt Valley 5K race each year since 2009.
For David, participating in the races means more than simply taking home the top spot. As GFS Cross Country coach, 16 students David has coached along with Assistant Coach Karin Riesenfeld will participate in the Baltimore Running Festival as part of four relay teams. In 2013, David and Karin coached the Cross Country team through an undefeated season and the team's first-ever IAAM-C Championship title. And while the Race for the Cure 5K is shorter in distance than most of his runs, David runs Race for the Cure in honor of both of his wife Amanda's grandmothers, one who died and one who is a recent survivor, and Amanda's cousin who was recently diagnosed and has undergone treatment. His Race for the Cure participation is also part of a strong tradition of GFS support for the Komen Race. Team GFS was the top school team at the race in Hunt Valley in 2012.
A Pennsylvania native and 2004 graduate of Elizabethtown College, David and wife Amanda, a triathlete he met in Baltimore running club circles, have two young boys and live on campus at GFS. After training in North Carolina on the Olympic Development team (ZAP Fitness), he came to Baltimore in 2006 to teach science in Baltimore City before joining GFS in 2008. David teaches science for grades 6 and 8, and in addition to coaching the Varsity Cross Country team, he has coached GFS's Middle School Cross Country team and the GFS Indoor track team. Most recently, David won the Frederick 1/2 marathon in 1:05 and won the Pocono Marathon in 2:22 last spring.