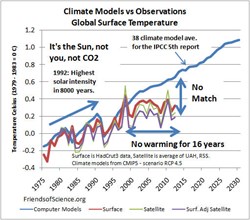 Global warming - Science or Politics? Action needed or Canadians will pay billions.
Calgary, Alberta, Canada (PRWEB) October 03, 2013
Expert citizens are challenging government low-carbon policies and the scientific premises of the Intergovernmental Panel on Climate Change (IPCC) say Friends of Science.
Calgary geologist Bill Bell sponsored a two page advertorial of his entitled "Global Warming – Science or Politics" in the Calgary Herald Sept. 25, 2013. His subtitle hit taxpayers hard: "Action Needed or Canadians will Pay Billions." His article is available on Friends of Science web . Bell has been an avid researcher on this topic for years, having previously published two similar documents to edify the public, both of which were wildly popular with the public with Bill receiving more than 1,000 emails in response.
Bell notes in his opening that he is a geologist by profession and this is why he is speaking up. The evidence he has seen in his own hands, his own professional studies of eons of geologic history do not support the IPCC conclusions.
Further, his on-going research in the realm of global warming politics has made him a total sceptic. One principle reference is Elaine Dewar's 1995 "Cloak of Green."
Another key report is that of "Consensus and Controversy: The Debate on Man-Made Global Warming" by Emily A. Røyrvik, through SINTEF 2013/04/12 .
On the science side, Bell refers to his own knowledge and experience, and the insights of Ian Plimer, author of "Heaven and Earth."
Bell concludes that politics, not science is driving the global warming and climate change movement. He notes that an ordinary citizen like himself has spent hundreds of hours researching and writing; as well as his own money to publish his statement.
To his disappointment, Canada's well-funded universities, well-paid professors and major 'climate change' departments have never even sponsored a public debate on the matter. Yet, they are prepared to spend billions of taxpayer's dollars on the word of an organization that has been exposed as being corrupt by investigative journalist Donna Laframboise.
Bill Bell calls upon Canadians to tell their government to stop wasting taxpayers' money on climate change which is a largely natural phenomenon driven by various influences, primarily the sun.
To honor all citizens who stand up for science, Friends of Science announces a free CD gift for all new 3 year members or 3 year membership renewals. The CD is entitled "The Erlendson Effect" - featuring nine original compositions by the grandfather of Canadian jazz, Bob Erlendson.
Bob is accompanied by some Juno award-winning jazz greats like bassist George Koller, Bob Brough on sax, Reg Shwager on guitar, Marc Pizer on drums and Producer Zvika Anosh on percussion. Bob's jazz compositions are musically intricate and the jazz aficionado will appreciate the complexity of his stylings – the regular listener will just enjoy his smooth, delightful melodies like his early 'pardonnez-moi.'.
Friends of Science memberships are available on-line. International applicants should only use PayPal or Credit Card.
This membership gift offer is void where prohibited.
About
Friends of Science have spent a decade reviewing a broad spectrum of literature on climate change and have concluded the sun is the main driver of climate change, not carbon dioxide (CO2). The core group of the Friends of Science is made up of retired earth and atmospheric scientists.
Contact:
Friends of Science Society
P.O.Box 23167, Connaught P.O.
Calgary, Alberta
Canada T2S 3B1
Toll-free Telephone: 1-888-789-9597
Web: friendsofscience.org
E-mail: contact(at)friendsofscience(dot)org