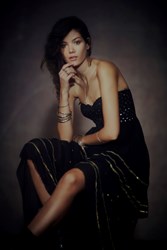 ...we are excited to exclusively release this capsule as a special reward for some of our most engaged customers.
Philadelphia, PA (PRWEB) October 03, 2013
Free People is getting innovative with Pinterest and today, for the first time ever, the brand's followers are offered special access to a selection of products that won't be found anywhere else. The capsule collection of six holiday dresses, featured exclusively on Pinterest, is a special collection of higher price point, limited edition dresses. By clicking on any image of the dresses, users will be taken to a hidden category on the brand's website where each dress can be preordered prior to the public launch at the end of October. With limited quantities of each of these styles, pre-ordering will be essential for fans to ensure they get their desired dress.
With its highly visual display, many of the internet's most fashionable tastemakers are actively using Pinterest – over 200,000 of which currently follow Free People. By revealing product on the social platform, Free People is giving fans a new reason to follow them.
"Pinterest has quickly become a top source of traffic to our eCommerce site, and these visitors are highly engaged," says Jed Paulson, Free People's Director of Ecommerce & Marketing. "After Facebook, customers are shopping through Pinterest more than any other social platform, and with this opportunity, we are excited to exclusively release this capsule as a special reward for some of our most engaged customers."
Throughout the season, the Limited Edition holiday dress collection will grow to feature additional styles. The styles range in price from $350-$650, and feature unique detailing such as leather and stud trim, intricate Victorian lace, and elegant appliques.
Each style is available in limited quantities of 50-150 units. Fans can shop through Pinterest starting today to guarantee they get their Limited Edition dress before it's gone.
CREDIT INFO
Models: Alyssa Miller, Sheila Marquez, Dorthea Barth-Jorgensen
Photographer: Joshua Allen
Hair: Konstanze Zeller, Amy Farid
Makeup: Konstanze Zeller, Deanna Hagan
About Free People
Free People is a specialty clothing brand featuring the latest trends and vintage collections for women who live free through fashion, art, music, and travel. The bohemian look consists of quality apparel, shoes, and accessories that invoke attributes of femininity, spirit, and creativity with its design. Free People is distributed globally via direct channels including the Free People Global site and Free People UK site, as well as specialty boutiques, top department stores, and the brand's free standing retail locations in the U.S. and Canada.