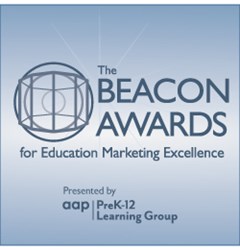 Philadelphia, PA (PRWEB) December 12, 2013
The PreK-12 Learning Group of the Association of American Publishers (AAP) has opened the submission period for the Beacon Awards which recognize outstanding marketing campaigns that promote educational resources. The Beacon program welcomes entries from agencies, design firms, learning resource development companies, schools, universities, and nonprofit organizations. Nine categories are available and cover a variety of approaches and formats. A category has been added for 2014 called New Product Launch.
Understanding the challenges of successfully promoting educational products to school districts, instructors, parents, and students, the Beacon Awards were created to encourage creativity and innovation within the education marketing community. The Association of Educational Publishers (AEP) began the Beacon program in 2001. In July 2013, the AEP and the Association of American Publishers (AAP) School Division merged to form the PreK-12 Learning Group. As a result of the merger, the Beacon Awards are now facilitated by this new division of AAP.
The early-bird deadline for the Beacon Awards is November 15, 2013. Companies and organizations from across the preK-12 learning resource industry are invited to submit their entries on the Learning Group's website. Winners will be announced at the Beacon Awards Luncheon on June 4, 2014 at the Capital Hilton at Washington, DC. MDR, a marketing firm based in Shelton, CT will sponsor the event.
About the AAP PreK-12 Learning Group
A division within the Association of American Publishers, the PreK-12 Learning Group serves its diverse membership by providing valuable resources and industry intelligence; fostering a fair, competitive and robust market; and encouraging the development of professional, quality content for teaching and learning. The Learning Group engages state, local, and federal policy leaders on such issues as funding, curriculum, testing, and literacy, and also organizes events, awards, and programs to support professionals at all levels. In 2013, the School Division of the AAP merged with the Association of Educational Publishers (AEP) to form the PreK-12 Learning Group, which combines AAP's proven strengths in advocacy and legal affairs with AEP's successful programs for the benefit of its members. Read more at http://www.AEPweb.org.