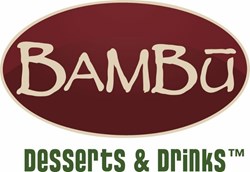 Houston, Texas (PRWEB) October 03, 2013
Bambu Desserts & Drinks, the renowned San Francisco Bay Area Vietnamese dessert drinks and chain, announces the grand opening of its third shoppe in the greater Houston metro area. "We are thrilled to have such a rapidly growing presence in Texas," said Julie Nguyen, co-founder of Bambu Desserts & Drinks, Inc. "We are so happy that Texans, in and outside the Asian communities, have so quickly embraced our healthy and refreshing chè drinks."
On Friday, October 4, this newest Bambu shoppe is hosting its grand opening celebration adjacent to the Thang Hung Market located at 3010 Gears Road at the corner of Gears Road and Walters Road.
Bambu - Thang Hung Market will keep its doors open to the community and Bambu lovers everywhere from 8:00 am to 9:00 pm. "We invite all our friends, family and community to come join us for this exciting celebration," said Huy Nguyen, co-owner of Bambu Thang Hung Market. "Please come and taste our chè."
"We learned about Bambu through mutual friends," said Thuy Tran, co-owner of Bambu Thang Hung Market. "It started to become the topic of nearly every conversation, so we decided to explore the Bambu opportunity and we now have our very own Bambu for everyone to enjoy."
Bambu Desserts & Drinks was founded in 2008 by four sisters in San Jose, California. With nineteen new shops opening in the past 18 months, Bambu has become nationally known for its fresh, healthy and colorful Vietnamese-inspired chè, fresh coconut drinks, Vietnamese espressos, blended coffees, and exotic smoothies. Their menu has nearly 100 desserts, coffees, teas and drinks to select from, but you can order any item "just the way you love it" including extra jellies, pearls, or even shots of espresso.
"As our Bambu family of shoppes continue to open across the nation," continued Julie Nguyen. "We are excited about the chè-mania we are creating." For more information on Bambu Desserts & Drinks, visit http://www.drinkbambu.com.