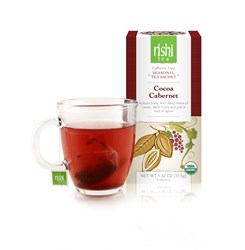 '... Cocoa Cabernet exemplifies our commitment to providing a gourmet tea experience that is on par with customers' selection of fine wines, olive oils or cheeses,' says Beau Bernstein, Marketing Director
Milwaukee, WI (PRWEB) October 08, 2013
Rishi Tea (http://www.rishi-tea.com), international purveyor of artisanal organic and Fair Trade CertifiedTM loose-leaf teas and bagged teas, announces the addition of Cocoa Cabernet to its line of herbal tisanes. Rishi's expert tea makers formulate and hand-blend their Caffeine-Free Herbal Teas with premium organic herbs and spices that are imported directly from growers throughout the world.
Influenced by the worlds of boutique wine, gourmet chocolate, and potency herbs, this seasonal tea embodies the concept of an herbal tea driven by a subtle Cabernet wine taste profile: robust body, with deep notes of cacao, dark fruits and just a hint of spice. The harmony of red wine grape skins, South American super berries, rich roasted cocoa nibs and accents of black pepper provides a cup that delights the taste buds while fortifying the body.
"Our new Cocoa Cabernet exemplifies our commitment to providing a supreme quality, gourmet experience for discerning tea drinkers, particularly those seeking an epicurean tea that is on par with their selection of fine wines, olive oils or cheeses," says Beau Bernstein, Marketing Director, Rishi Tea.
Rishi sources its herbal ingredients through critical and extensive evaluation by constantly cupping and selecting the best lots for its blends. The herbal blends in Rishi's menu contain a range of premium quality roots, fruits, flowers, seeds, barks, stems, leaves and other rare botanicals and spices that are often combined with natural plant essential oils and fruit extracts. Rishi's herbal and botanical teas exhibit flavors and traditions from around the world and are always hand blended in micro-batches, cured for harmony and cupped before release to ensure the batch is at its prime character.
A box of Herbal Cocoa Cabernet contains 10 sachets, each of which brews a rich, sumptuous quart of tea with a Suggested Retail Price of $9.99. Cocoa Cabernet can be found at select retail stores such as Whole Foods, Central Market, Wegmans, Eco Chic Organic Gift Baskets or online at http://www.rishi-tea.com.