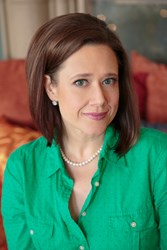 "Taking the longer 'road less-traveled' approach rather than a 'short-cut' results in success," affirmed Rebecca Wright, special events coordinator, Truluck's Seafood, Steak and Crab House, North Texas locations.
Dallas, TX (PRWEB) October 04, 2013
Rebecca Wright, a noted Dallas hospitality professional for over 20 years, always focuses on her customers and knows the importance of doing what is "right" versus what is "easy." As special events coordinator for Truluck's Seafood Steak and Crab House North Texas locations, Wright is known for her customer expertise and superior service.
Recently, Wright was walking in her local neighborhood and observed a well-worn path in the grass where for years pedestrians had been taking a "short-cut" to arrive quickly to an adjacent building. Seeing this path as a scar on an otherwise beautiful lawn, Wright began to reflect about different scars that are made when short-cuts are made in business. Is a "short-cut" often confused with efficiency? How do we determine what is really efficient and what is a "short-cut"? Even more importantly, Wright pondered the negative impact when a business short-changes its customers or clients and ultimately, itself if the "easy" way of doing service and processes replace the "right" way.
As Wright thought about her own business and hospitality industry overall, she saw parallels that apply to any organization. Based on experience, she outlined the following six tips:

Be thorough for any activity or engagement with customers and/or clients; always set the stage for success from the beginning, e.g., gather necessary facts and data.
Take a long time to do something right once rather than doing something wrong twice.
The path of least resistance is sometime the best solution. The skill is to know the difference between low resistance and low commitment.
When committing to a project, remain steadfast in your commitment to complete, yet also be brave enough to abandon a project that no longer makes sense for your business
Treat all co-workers and other employees with full dedication and time regardless of their tenure with the business. Remember that a new employee may be the next "shining star."
Accept and celebrate your successes along the way.
"Taking the longer 'road less-traveled' approach rather than a 'short-cut', results in success," affirmed Wright. "It ensures that a business preserves its most important assets, the customers or clients and employees."