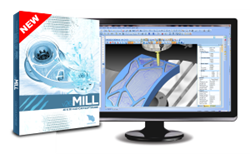 Clearwater, Florida (PRWEB) October 08, 2013
CAD-CAM software pioneer BobCAD-CAM released their latest v26 CAD-CAM software with a long list of new features to further automate the CNC Machining process. With v26 CAD/CAM software, CNC businesses and programmers can take advantage of a new, unique concept in CAM technology - Dynamic Machining Strategies (TM). DMS functionality allows users to apply any number of machining operations to a single CAD model feature, as well as allows on-the-fly editing of these operations. The result saves time, since users do not need to re-pick geometry over and over again to apply an operation. All DMS operations are wizard-driven to increase efficiency while giving users high quality toolpaths for CAM. This ability cannot be found anywhere else in the CAM industry for the price.
In the past, machining strategies have been fixed based on the types of operations available. With v26, BobCAD-CAM has moved to support multiple, dynamic operations via DMS on a feature level. A "feature", by definition, is part of the CAD model and pertains to the geometry. When a model is loaded, users may choose any combination of machining operations to machine for one feature. For example, if you want to drill a hole, you may need to use a smaller drill to pre-drill. With v26, there is no need to edit the Tool Pattern to add the pre-drill hole; you simply add another drill operation to the hole "feature". This concept is the heart of DMS.
DMS provides improvement for 3,4 & 5 axis machining. For example, you may add several finish passes simply by adding more operations to the feature. Operations do not share parameters, allowing independent control over each operation. For example, you can have your finish operations start in a different location than your roughing operations without using multiple features. Ultimately, DMS provides users more flexibility and control in employing machining strategies for each job. DMS is added to both of their core CNC Software products for CNC Milling and CNC Turning.
BobCAD-CAM has provided CAD/CAM CNC software products to the global manufacturing industry for over 25 years. BobCAD-CAM software can be found to increase CNC productivity for many applications including educational and independent hobby home use. BobCAD-CAM also provides a variety of quality training products that include regional and online training classes or private sessions tailored to specific applications that can result in professional certification as well as multi-tiered technical support solutions to their service customers.
For more information about the new v26 CAD-CAM CNC Software or the latest DMS Technologies contact BobCAD-CAM directly at 877-262-2237 or 727-442-3554. Visit http://www.bobcad.com for free demo downloads.