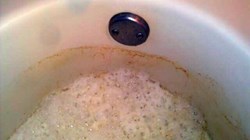 Maplewood, MN (PRWEB) October 28, 2013
Scientific Biofilm Solutions wants to raise awareness and provide tips on how to properly clean a jetted tub to avoid bathing in high levels of mold and bacteria.
The problem jetted tub users encounter is that if the tub isn't cleaned properly, with the right cleaners, it will have dangerously high levels of mold and bacteria. This poses a serious risk for respiratory problems, along with the risk of E. coli, staph infections, pseudomonas, and legionella (Legionnaire's Disease).
To clean a jetted tub properly, one must understand the problem. Jetted tubs have about 15-20 feet of plumbing lines that run underneath the tub. These plumbing lines are full of warm, stagnant, leftover bath water. This leftover water full of bather waste is a perfect breeding ground for mold, bacteria and biofilm (the slime in the lines). Biofilm is the main problem for jetted tubs. Biofilm is a living organism that houses, protects, and feeds bacteria. If biofilm is present, over time, mold and bacteria will reach very high, possibly dangerous levels. When the user turns on the whirlpool, some of the biofilm breaks loose and enters the bath water, which is then aerated by the jets. Tub users will be bathing in, and breathing, very high levels of mold and bacteria, plus mold and bacteria will be spread throughout the house. If the biofilm is cleaned from the plumbing system, the tub will have low levels of bacteria. In the case of jetted tubs, in order for bacteria to reach high levels, it must live in biofilm.
One of the problems encountered with jetted tubs is that users don't understand how to properly clean their jetted tub. Or the importance of cleaning the tub to prevent mold, biofilm, and bacteria from forming. Much of the confusion lies from misinformation from many well-known "how to" internet sites that offer dangerous and wrongful advice on how to clean jetted tubs. Many of these sites call for homeopathic cleaning methods such as using vinegar, bleach, dishwasher detergent, lemons, etc. None of these methods will properly clean the tubs, so the tubs will certainly have very high levels of mold and bacteria.
The University of Bozeman Montana has a Center for Biofilm Engineering where they have multidisciplinary research teams developing beneficial uses for microbial biofilms, and they find solutions to industrial relevant biofilm problems, such as biofilm in jetted tubs. Their hypertext book on biofilm, in chapter 7, contains a study of slow chlorine penetration in biofilm. The study states, in reference to chlorine (bleach) "very clearly chlorine (bleach) does not penetrate biofilm". This is important for those cleaning jetted tubs to understand that using the wrong product like bleach will not properly remove biofilm.
Tips to help customers maintain a clean and safe bath:
•Use a proven cleaner like Oh Yuk Jetted Tub Cleaner to properly clean the jetted tub.
•Clean the tub after each bath to remove the contaminants in the plumbing lines and to prevent biofilm from forming.
•Run the cleaner for the required time to ensure the plumbing lines have been properly cleaned.
•Air tubs must be cleaned after each bath if any of the bathwater gets into the lines. Simply blowing the contaminated bath water out of the lines will not prevent biofilm and bacteria from growing in the lines.
•When finished, clean the surface of the tub with a good bathroom cleaner like BioWorx All Purpose or Shower cleaner.
•Bring a cleaner like Oh Yuk with when you travel
If used after each bath, products like Oh Yuk will provide safe and clean bath water for jetted tub users.
For more information, visit Scientific Biofilm Solutions web site at: http://www.scientificbiofilmsolutions.com/Jetted_Tub_Cleaner.html
Do you have family members or friends whose kids are sick all the time? Let them know their jetted tub may be the culprit and that there is a solution.
Jetted tubs, if cleaned properly, are perfectly safe to use.