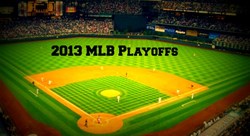 South Windsor, CT (PRWEB) October 06, 2013
With two Game 3 matchups on the line fans are in for an exciting evening of baseball in the MLB playoffs. You won't want to miss out on any of the major league action. There's still time to scoop up tickets to Game 3 playoff matches at Ticket Liquidator.
Will the Pittsburg Pirates be able to make use of their hometown advantage as they face off against the St. Louis Cardinals for the third time? The Pirates had a big loss to the Cardinals in Game 1, but rebounded with a 7-1 win for Game 3 thanks to the potent pitching of Gerrit Cole. In their first playoffs since 1992, the Pirates have the next two games at home to pull off an upset.
"Pittsburgh has been great at pitching all season, and if its offense ultimately comes through, it will certainly put it in a better position to take this tie-breaking game," said The Bleacher Report.
The Pirates play the Cardinals at PNC Park in Pittsburg at 4:37 p.m. (ET).
With a resounding win over the Atlanta Braves in Game 1, the LA Dodgers narrowly beat the Braves at home in Game 2. The Braves need catcher Brian McCann to step up to the plate, and they will need to put the heat on Dodgers southpaw Hyun-Jin Ryu in his first postseason start to take the upperhand. The Dodgers would benefit from getting runners on the base for first baseman Adrian Gonzalez to be in position for RBIs and to rattle starting pitcher Julio Teheran. Heading off to L.A., the Braves take on the Dodgers at 8:07 p.m. (ET) at Dodger Stadium.
League and team names are the property of their respective owners. Ticket Liquidator does not claim any right or ownership to any of the team or league trademarks contained in this press release. They are strictly used for descriptive purposes and do not imply an endorsement or partnership.
About Ticket Liquidator
Ticket Liquidator is a leading online ticket marketplace for tickets to popular live entertainment events throughout the United States and around the world. Since 2002, Ticket Liquidator has provided ticket buyers with a selection of more than $1Billion in inventory of premium event seating at the lowest possible prices. With Customer Service available 7 days a week, PCI and EVSSL security certifications and our Worry-Free 125% Guarantee, Ticket Liquidator ensures that ticket purchases can always be made with confidence. Ticket Liquidator is in no way associated with any of the artists or venues listed.