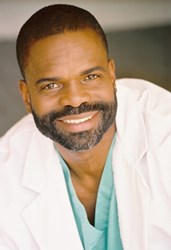 Los Angeles, California (PRWEB) October 10, 2013
Dr. Bill Releford recently discussed health issues affecting the African American community with employees gathered at the GE Healthcare Institute Auditorium in Waukesha, Wisconsin. "Keeping Our Communities Healthy" was also broadcasted to GE workers in 32 nations via teleconference and webcast. Pat Pearman, the Director of Disparity Programs and U.S. Partnerships for GE healthymagination, moderated the forum, which took place on February 21, 2013.
Invited by GE Healthcare to participate in its HealthAhead initiative that provides employees with tools for healthy living, Releford specifically addressed minority healthcare. "Hypertension and diabetes continue to afflict African Americans at a disproportionate rate, both in the United States and across the world," said Releford. "Eating at home, following a diet that includes five colors a day, and exercise all play an important role in preventing and managing the diseases endemic to our community."
"I am pleased to have had the opportunity to reach out to thousands of GE employees," Releford continued, "and I applaud forward-thinking companies like GE Healthcare that do more than 'talk the talk' when it comes to wellness programs, and actually create a culture of health."
The talk will be rebroadcast at future dates.