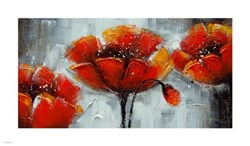 Delray Beach, FL (PRWEB) October 12, 2013
PosterNation.com is sprucing up its inventory with new floral art prints of poppies. Poppies are unique flowers that have served as inspiration for painters, photographers and other artists. Decorate any space with the natural beauty of poppies with photography, abstract posters or realistic art prints. The new posters are available in a wide variety styles, colors and sizes.
Vanessa Smith, marketing director at PosterNation.com, said, "PosterNation.com continues to offer new posters that appeal to our customers' decorating needs. Poppies are particularly popular because of their symbolic representations of sleep and peace. The red flowered corn poppy is also used to symbolize wartime remembrance. PosterNation.com now offers a wide variety of poppy posters that are also available as framed art prints."
Millions of different framing configurations are available on PosterNation.com. The top-quality framing services allows customers to customize any art print on the website by choosing from among the different cropping, matting, moulding and glazing options available.
About PosterNation.com
PosterNation.com offers thousands of high-quality framed art prints and posters featuring themes that include: sports, movies, music, pets, animals, travel, motivational topics, hot people, vintage celebrities and more. The frame shop allows customers to customize their purchase by selecting the cropping, matting, framing and glazing for a framed art print or poster. Please visit http://www.PosterNation.com for more information.