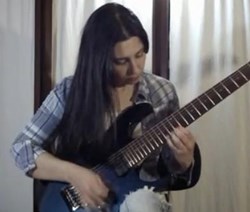 (PRWEB) October 08, 2013
GuitarControl.com announces the release of "Lead Guitar Lesson - Learn to Play the Guitar Solo from Amaranthine by Amaranthe," the latest in their series of free instructional YouTube videos.
Amaranthe is the debut album (released in 2009) by the Swedish band of the same name. The band's music is combination of the power and energy of modern Metal with the melodic approach of European Pop. The result is a sound that is both stimulating and soothing, and that has given the band a wide following internationally.
Incidentally, the band's name is derived from the Amaranth family of perennial plants. The word itself comes from the Greek words for "un-wilting" and "flower," a characteristic that has made these plants a useful metaphor for such poets as John Milton, Samuel Taylor Coleridge, and Percy Bysshe Shelley, and serves similarly to describe the band's aspirations. The song "Aramanthine" continues that theme with a driving rhythm and with lyrics that describe love and "un-wilting" passion.
That emotion is musically exemplified by guitarist Olof Mörck's intense solo, the subject of Alejandra Mesliuk's latest video lesson. Study of the (available) tablature notation reveals that this solo is relatively straightforward, deriving its power more from the phrasing of the notes (including some tapping) and the sustained string bends, than from structural complexity. Alejandra plays the solo at various tempos, including slowly enough that students can easily perceive the fingering. Regardless of the tempo, her demonstration concentrates on conveying the emotional power of the solo, possibly the most important lesson for any musician.
Come to think of it, that flower metaphor applied to Alejandra as well. A rising star in the music world, and a sought-after instructor in her homeland, Alejandra Mesliuk is a highly accomplished and classically trained guitarist from Argentina who is equally comfortable playing Jazz, Rock, and Classical pieces. A member of the Miami-based group A Persuasive Reason, Alejandra is also preparing her first solo album Los locos de Dios and working on her first instructional book: Technique and Expression - method of tapping and slap guitar for 6 & 7 strings.
Guitar Control.com is a consortium of professional guitarists dedicated to providing the highest quality musical instruction. Producing both web-streamed lessons and comprehensive multi-DVD courses, Guitar Control offers instruction for every style of playing and for all musical genres. Guitar Control's YouTube channel (youtube.com/guitarcontrol) offers 412 (and counting) free video lessons.