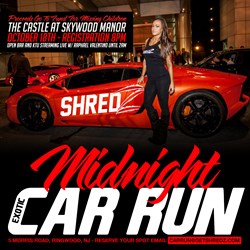 (PRWEB) October 09, 2013
SHREDZ, the fastest growing name in health and fitness, in association with Beyond Media Corp, will host the 2nd annual Midnight Car Run, an exclusive exotic car run, on Friday, October 18, starting at the historic Castle at Skylands Manor in Ringwood, N.J. The newest and hottest cars will cruise the grounds and a top-secret course through New Jersey, turning the streets of the course into a car show with spectacular views of New York City's skyline and the beautiful castle. Like last year, all proceeds will go to the Fund for Missing Children.
The previous run saw more than 100 exotic and luxury cars drive the route through New York City. This year's event promises to be much larger. After the run, an open bar reception will be held at the Ringwood Manor featuring KTU's DJ Raphael Valentino rocking the party until 2 AM.
Chief Executive Officer Arvin Lal and a host of SHREDZ personalities will be in attendance for the car run and the reception. Lal says he's ready to keep his company's momentum going.
"I'm thrilled for the Midnight Run because this is one of the most fun events that we put on. SHREDZ is coming off of a huge success at the 2013 Mr. Olympia Expo and we are going to roll right into this event with the same intensity and excitement."
Event Information:
Registration: 8:00 – 9:00 PM
Hors d'oeuvres: 9:00 – 10:30 PM
Midnight Run: 10:30 – 11:30 PM
Reception: 11:30 PM – 2:00 AM
Entry information:
Basic package
Pre and same day registration - $100 donation per exotic car and one ticket for reception
Additional reception tickets - $50 donation for each extra ticket
Upgraded package – $400 donation – includes one car entry, four (4) tickets to the reception, photo shoot with renowned photographer Ludwig Aruajo and your car featured on the official Midnight Run video to be aired on Spike TV.
Castle package -- $2,000 donation – entry for one car, full interview for Midnight Run video to be aired on Spike TV, meet-and-greet with attending celebrities, suite in the castle for the night of the event and parking in front of the castle.
SHREDZ, the fastest growing name in the health and fitness industry, was founded in 2011 and is headquartered in Jersey City, N.J. The company is led by co-founder and Chief Executive Officer Arvin Lal. Beyond Genetics Supplements offers maximum strength nutraceuticals, including its flagship product, SHREDZ Maximum Strength Fat Burner. The entire product line is manufactured and warehoused in the United States and distributed throughout more than 50 countries. For more information, visit http://www.shredz.com.
To register for the Midnight Car Run, contact Joe Puleo by email at carrun(at)getshredz(dot)com.