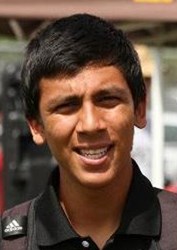 Madison's future is bright and full of promise thanks to Coach Flores.
San Clemente, CA (PRWEB) October 09, 2013
Mario Flores, Head Boys' Distance Coach at San Clemente High, recently returned from the prestigious USA Track & Field (USATF) Emerging Elite Coaches Camp at the U.S. Olympic Training Center in Chula Vista, California. The training camp is reserved for the top coaches in the country who have proven their abilities to develop athletes in their respective events.
The USATF High Performance Program is instructed by some of USATF's top clinicians. Mario was coached by Olympic coach, Joaquim Cruz, a former winner of the 800 m at the 1984 Summer Olympics. He is one of only five men to run the 800 m in less than 1:42. Mario was also advised by Dr. Jason Karp, a nationally recognized running and fitness coach.
The camp involved intensive science and technical-based study with hands-on application in the broad event areas. It is for serious coaches seeking advanced information, strategies and tactics, with an eye towards elevating their coaching and taking their athletes to the elite level.
Flores, age 22, was the youngest coach at the event, but his seasoned coaching abilities are evidenced by his outstanding track record. Mario has coached numerous athletes to school records, as well as two All-Americans, one two-time All-American, one individual CIF qualifier, and several national qualifiers. As an athlete, Coach Flores competed for San Clemente High School and Cal Poly Pomona. He has received numerous awards, including the CIF Perusing Victory with Honor Award. Coach Flores is USTF level 1 certified and has completed the LA 84 advanced cross country clinic. In addition to coaching at San Clemente High, Mario is also the owner of SCXC, a cross country club for athletes of all skill levels, ages 9-18.
Athletes and their parents have been delighted with their progress under Coach Flores's guidance. Tiffany DiMeco, mother of Madison DiMeco, states: "Coach Flores has trained my daughter Madison in cross country and track for the past three years. During that time, he has brought her twice to the National Championships in cross country (Junior Olympics), where she achieved All-American status on both occasions. Madison's future is bright and full of promise as a competitive athlete thanks to Coach Flores. His personal love for running translates into effective coaching, and I wouldn't have her train with anyone else."
Another parent, Amy Cook, concurs: "When I first brought my son and daughter to Coach Flores, they were running 11-minute miles. My son is now running a 5:23, and my daughter a 7:11. My children's first love is soccer, and Coach Flores encourages that while providing the best cross training imaginable. Soccer, football, and lacrosse players will benefit just as much from his program as competitive runners."
For more information about Mario, San Clemente High's Track and Cross Country Team, or SCXC, please visit http://www.socalxc.com.