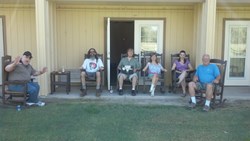 Adding Frank and Bill's caliber of talent to our existing programming team is like getting 2 more aces in my hand of developers. - Jim Boykin
Clifton Park, New York (PRWEB) October 09, 2013
Internet Marketing Ninjas, a prominent full-service internet marketing firm based in Clifton Park, New York, is pleased to announce the additions of Frank Bauer and Bill Atchison to its programming staff. Both Frank and Bill will play key roles in updating the WebmasterWorld.com software, as well as updating and creating additional internet marketing tools with Internet Marketing Ninjas' existing programmers.
"Adding Frank and Bill's caliber of talent to our existing programming team is like getting 2 more aces in my hand of developers," said Jim Boykin, Founder of Internet Marketing Ninjas and owner of WebmasterWorld. "We have some very large technology projects as well, as we're planning to update Webmasterworld.com in order to maintain its place as the leading source of knowledge and communication for webmasters and online marketers."
The move continues efforts by Boykin and Internet Marketing Ninjas (IMN) to draw seasoned veterans in the internet marketing space, as well as increase its presence in the industry through the acquisition of several major digital properties. Over the past few years, IMN has hired a number of well-known internet marketing experts, including Kris Jones, Chris Boggs, Ann Smarty, Kim Krause Berg, and Joe Hall, as well as they acquired a number of digital properties, including the Developer Shed Network, Cre8asiteForums, Threadwatch and WebmasterWorld.
Bauer and Atchison are both are WebmasterWorld Administrators.
Bauer, known on WebmasterWorld.com as phranque, has been a WMW member since 2004, and is a moderator of five forums: Webmaster General, Website Technology Issues, Perl Server Side CGI Scripting, Apache Web Server, and SEM Research Topics.
Bauer is also the Founder and "Chief Mechanic" of Web Tuning Garage. Bauer's specialized knowledge of various aspects of large scale programming and SEO will prove to make him a valuable addition to the Internet Marketing Ninjas programming team. He matches Jim's enthusiasm at the pairing, saying "To be working with Jim is an honor and I'm really excited to be part of the company culture he has created." Bauer's excitement did not end at the prospect of working with Jim, as, at the prospect of working with Bill Atchison, he further added, "As long-time friends and collaborators in the community, I am very interested in collaborating with IncrediBILL in a professional enterprise."
Atchison, often known online as IncrediBILL, is the founder of CrawlWall.com, a firewall that stops uninvited guests from crawling websites without permission, as well as the founder of LinkScrubber, a tool that finds link rot, even when other link crawlers claim the link is "200 OK."
With a career spanning more than 30 years, Atchison is a welcome addition to the IMN team, and is eager to begin. "I was really excited when Jim acquired WebmasterWorld and disclosed his plans about updating the community and building so many excellent tools," said Atchison. "With a closer working relationship, it quickly became obvious that the ninjas and I were a natural fit. When given the chance to be a part of this fantastic team, I joined the Ninjas without a second thought. I have great enthusiasm for Jim's projects and look forward to the challenges ahead."
About Internet Marketing Ninjas
Internet Marketing Ninjas, founded in 1999 by Jim Boykin, offer full service internet marketing, tools, online marketing consulting, SEO, SEM, and community/brand building. Boykin also owns several communities including: Webmasterworld.com, SEOChat.com, Cre8asiteForums.com, Scripts.com, DevShed.com, Threadwatch.org, and SEORoi.com.